First Look: Depp, Law And Farrell In The Imaginarium Of Dr. Parnassus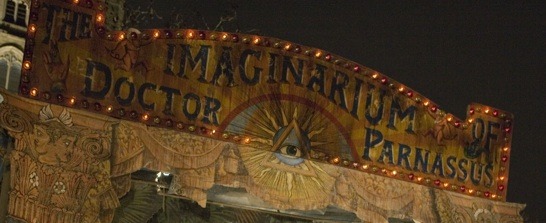 Bored? Frustrated? Desperate for something a bit more filling than the typical bot-crunching blockbuster? If you want something to really get excited about, try The Imaginarium of Dr. Parnassus, the next sly and subversive fantasy from Terry Gilliam. It certainly works for me.
Below the break is our very first look at most of the main cast in character and costume. This is the first time we've seen Johnny Depp, Jude Law or Colin Farrell in their shared role of Tony, and there's another – cheeky- shot of Heath Ledger as Tony too.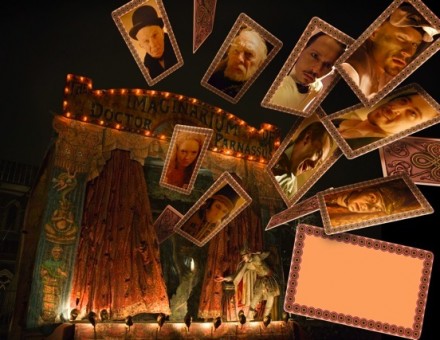 The picture appeared on the website of Nicola Pecorini, and possibly without authorization because, frankly, that's how the Pecorini rolls. He was the film's cinematographer and previously collaborated with Gilliam on the Scorpion Football ads, Fear and Loathing in Las Vegas, Tideland and a good chunk of The Brothers Grimm (the chunk before the Weinsteins replaced him).
Peering into the cards, I think you should also be able to recognize Christopher Plummer, as the Dr. of the title; Tom Waits as his infernal nemesis; Lily Cole as the Dr.'s daughter; Andrew Garfield and Verne Troyer as part of the Dr.'s traveling sideshow.
Hopefully set to premiere at Cannes, Parnasuss is unfortunately already infamous for being the final project of Heath Ledger. After his sad and untimely demise in the midst of production, it appeared that the film could not be completed, yet Gilliam took advantage of his film's fantastical premise, called on his considerable imaginative abilities and pushed the pieces around a little to make the puzzle fit together in a new way...
Instead of Heath Ledger playing the role alone, three more actors would step in and portray aspects of the role, the four facets coming together for the whole. Of course, we'll never have the originally planned version of the film for comparison, but I can't escape the idea that these unexpected, unwanted repairs can only have made the film stranger and more interesting (though, of course, only possibly and not necessarily any better). What a horrible irony.
Depp, Law and Farrell famously donated their fees for the film to Ledger's family. The film is now announced not as a Terry Gilliam film but "A Film by Heath Ledger and friends". Unfortunately, the insurance companies created some fuss and tried to withhold funds necessary to realize the transformation of Ledger into his three alter-egos, which appears to have held up the release.
As different distributors are handling the film in different territories it has proven nearly impossible to determine a realistic release pattern. I simply hope we get to see the film as soon as possible.