More Nerveracker Details; Robert Rodriguez Still Prepping Live-Action Jetsons Movie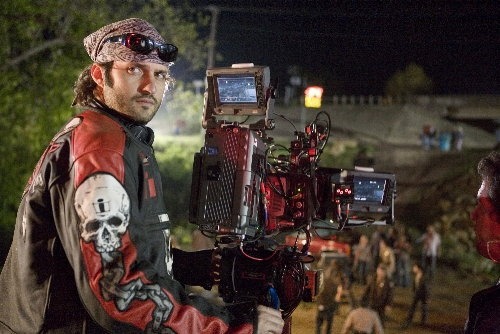 Yesterday the trades confirmed that Robert Rodriguez's next project will be a sci-fi action thriller called Nerverackers. The Weinstein Co just sent out their official press release, and the film is actually titled Nerveracker (non plural). The release also features more details regarding the film's plot and elsewhere we get confirmation that Rodriguez is still developing a live-action big screen version of The Jetsons.
"Nerveracker is set in the year 2085 and centers on the character Joe Tezca, part of an elite unit who is sent in to stop a crime wave amongst a perfect futuristic society. In the process, he discovers that "Nerverackers" are on a rampage for control of the city. Tezca consequently sets forth on a mission to reveal the cover up by the ruling class and stop the "Nerverackers" before time runs out. Nerveracker is set for an April 16, 2010 release."
Rodriguez claims that "This is one of those projects that we dreamed about making for years, and now the timing is right to finally do it." I'm excited to see what Rodriguez can do in a darker sci-fi world.
But the bigger news at this point is that Rodriguez is still gearing up to make a live action film adaptation of The Jetsons, a project that we thought had fallen to the wayside. According to Harry at AICN, Robert has been "shooting some tests for" The Jetsons recently "and was quite giddy about how it was coming together...". I've read some of Adam F. Goldberg's 2007 draft of the Jetsons script, and the small portion I read was actually pretty cool. I know when you think Jetsons movie, you immediately think about how they handled The Flinstones films, but this has the potential to be all sorts of sci-fi cool. We'll see...