Danny Trejo Joins Sylvester Stallone's The Expendables Aka Inglourious Old Basterds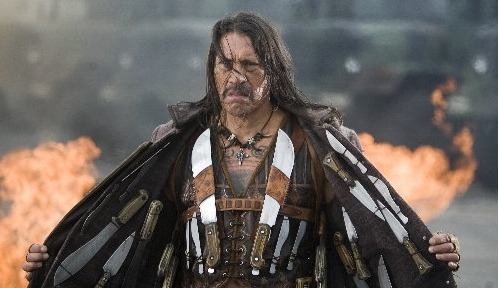 Admit it, the cast for The Expendables is fast becoming the impossible wet dream actioner juggernaut that Quentin Tarantino used to chatter up and chatter up and chatter up for Inglourious Basterds. I'm not hating on IB (of course not! geek treason!), just saying: this is Inglourious Old Basterds. Not only is Arnold Schwarzenegger making a cameo as his state faces economic disaster, but now Machete himself, Danny Trejo, is set to star according to our chums at Latino Review. They speculate that Trejo will play one of the South American goons that Stallone, Statham, Rourke, Li, Lundgren and Co. will set out to destroy in utterly profane PG-13 fashion.
With the recent surprise blockbuster successes of Taken and Gran Torino, it seems that audiences are starving for more tough-guy showdowns that don't involve capes and canon. Drew McWeeny chimed in on this topic a few days ago, and I couldn't agree more. I still haven't experienced the type of cliche united "bro-dom" in a theater as I did last year with Rambo. Let's hope JVCD kisses some veiny, muscled ass and joins this cast because he's going to regret that "high road" detour for the rest of his life. Count on it. P.S. Stallone call Cash.
Update: So Gov. Arnold might not be dropping in after all due to the economy's downturn.