/Filmcast Ep. 38 - The International (GUEST: Russ Fischer From CHUD)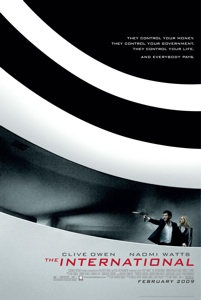 In this episode of the /Filmcast, Dave Chen, Devindra Hardawar and Adam Quigley discuss their their thoughts on the Inglorious Basterds and Wolverine trailers, explain why Scott Pilgrim may be the next great comic book film, and revel in the joys of the new Friday the 13th. Special guest Russ Fischer joins us from CHUD.
Join us on Monday night at 9 PM EST / 6 PM PST at Slashfilm's live page as we review Frozen River, now out on DVD. You can always feel free to e-mail us at slashfilmcast[AT]gmail[DOT]com or call and leave a voicemail at 781-583-1993.
Download or Play Now:
Shownotes
Introduction
(01:30) Feedback on commentaries and interviews is needed immediately. Like/dislike? Listen often/rarely? (email us at slashfilmcast@gmail.com)
What Have We Watched
David Chen (04:11): Friday the 13th, 24, Lie To Me
Russ Fischer (16:57): Southland Tales, The Last Boy Scout, Eyes Wide Shut
Devindra (23:28): Dollhouse
Adam (30:25): Eastbound & Down, Important Things with Demetri Martin, Rescue Dawn
News Discussion
(55:18) Wachowski's for Superman Reboot?
(1:01:26) Zac Efron and the Rock in Johnny Quest
(1:04:10) Wolverine TV Spot
Featured Review
(1:08:40) The International
Credits
Our music comes from Point 22 courtesy of the Podsafe Network, and Brad Sucks
If you'd like advertise with us or sponsor us, please e-mail slashfilmcast@gmail.com.
Contact us at our new voicemail number: 781-583-1993
You can donate and support the /Filmcast by going to www.slashfilmcast.com and clicking on the right-hand side "Donate" links!