LOL: The Asylum's Terminator Salvation Knock-Off The Terminators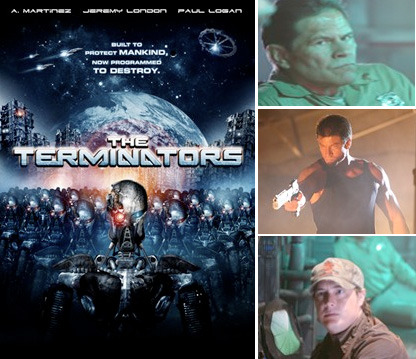 The Asylum, a direct-to-dvd production company responsible for producing cheap knock-offs of the latest big budget Hollywood movies (termed "Knockbusters) takes on Terminator Salvation with a movie titled The Terminators. The Asylum's past titles include: Street Racer , Sunday School Musical , Transmorphers, Snakes on a Train, I Am Omega, Da Vinci Treasure, Temple of the Skulls, HG Wells' War of the Worlds, AVH: Alien vs. Hunter, Monster (the Cloverfield rip) and Pirates of Treasure Island.
The movie, which will be released direct to DVD on April 28th (around the same time that Terminator Salvation hits theaters), follows the story of "a small band of resistance fighters battle the cyborgs that have taken control of the planet." Wow, sounds familuar, doesn't it? The film stars Jeremy London, best known as TS from Kevin Smith's Mallrats, the tv shows Party of Five and 7th Heaven. No trailer has yet been released, but I'm sure when one s, it will be funnier than a Uwe Boll movie. Thanks to /Film reader averyguerra for the tip.