Details Emerge On High Definition Akira Blu-Ray Restoration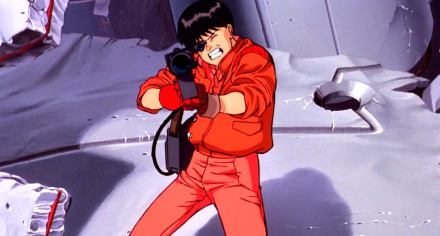 I love my 2001 tin-case DVD release of Akira, but since word hit the street that the film was getting a high-definition Bluray restoration I've been aching to learn how it was going to be improved. A recent post over at Blu-ray.com sheds some light on this highly anticipated release, and thankfully, it sounds like we're getting more than just a higher-resolution version of the 2001 Akira release.
From the site:
Even though AKIRA had major restoration work done for the 2001 DVD release, including a 1080p theatrical quality master, advances in digital restoration and film transfer technologies have increased to the point where a brand new transfer was warranted. As with the audio, a new inter-positive was struck from the original film negative for a new scan into a digital intermediate (DI); the master computer file upon which all of the remastering work was performed.
Apparently, the Blu-ray release is also getting an uncompressed PCM 192Khz/24bit 5.1 audio track as well (which in layman's terms means it's totally sick), which was developed by the film's composer, Shoji Yamashiro. While high-definition audio formats like DVD-Audio and Sony's SACD are pretty much dead in the water at this point, I'd kill for this higher resolution version of the score to get released on one of those formats.
And for those of you worried that all of the digital remastering may erase some of the film's original magic, Blu-ray producer Jun Takei seems to be keeping tabs on that:
Mr. Takei feels it is very important to maintain the character of the original film and the warmth of hand-painted animation. Even though modern audiences have grown used to computer painted animation it is very easy to go overboard during the cleaning process in an attempt to come closer to that look and feel, as has been the case with some Hollywood films where processing and noise reduction has been used to excess. Subsequently, AKIRA was given a thorough color correction and Mr. Takei believes the restoration team has gotten very close to the luster of the original animation cels, restoring the picture to a condition that allows AKIRA to be experienced as its creators had intended.
I'm sure this isn't going to be the last anime film or series to get a Blu-ray restoration, but it definitely sounds like Bandai Visual and Pioneer has set the bar for high-definition anime remasters.
Akira hits Blu-ray on February 24, 2009.
Source: Blu-ray.com via Tim Maughan Books
Discuss: Will you be picking up the Akira Blu-ray? Are there any other anime (or other animation) releases that you'd like to see in high-definition?