First Trailer For Live Action Blood: The Last Vampire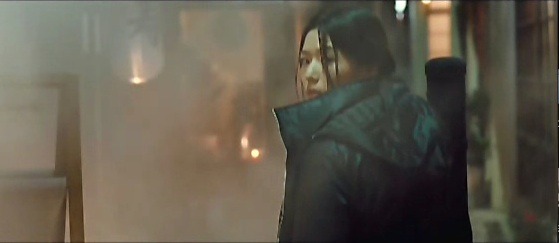 Into every generation, and apparently every nation, one is born. A schoolgirl who will take up arms against the pale and pasty undead. The US got Buffy Summers, while Mamoru Oshii and Hiroyuki Kitakubo gave young Saya to the Japanese.
Her debut was in the 45-minute anime Blood: The Last Vampire which, while being very visually accomplished and quite alluring aesthetically, seemed rather hollow. It played more like an episode of an already running narrative, or a particularly elliptical pilot. Below the break I'll put the trailer, so you can judge how this latest run at the project plays.
[flv:http://bitcast-a.bitgravity.com/slashfilm/trailers/teaser_blood_the_last_vampire.flv 470 204]
There have already been very many spin-offs and side narratives that draw upon the original, including a reboot TV series called Blood+, a few video games, a Manga series and novels. Clearly, there's something about a schoolgirl laying it down on bloodsuckers that really strikes a chord with people – and it sounds like a harmonious chord rings out every timea checked skirt comes out of the wardrobe. Blood plays a certain kind of geek like a piano.
I recognised the majority of the images in the trailer from the animated source but was pleased with how they were realised. It looks stylised, possibly even stage-bound, but fluid and polished. I've only seen one of Chris Nahon's previous features – EuropaCorp's intermittently splendid Kiss of the Dragon – but that suggested he can handle this kind of material with relative ease.
Of course, it's all seems a bit lukewarm if you do compare it to Buffy the Vampire Slayer, but that's true of most things.
I can't see a US release date for Blood on the horizon, but according to The Anime News Network, the Japanese launch is set for May 29th, and we in the UK will get our shot on June 12.