Box Office: What Recession? Biggest President's Day Weekend In Hollywood History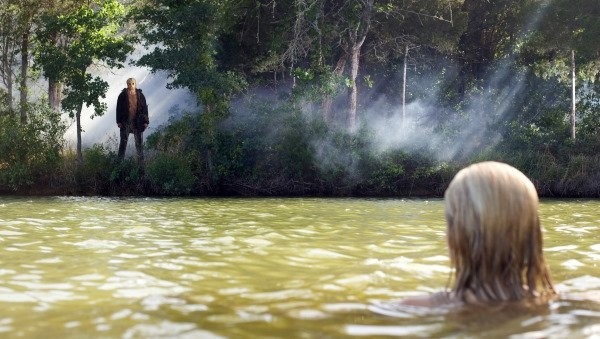 Although America is suffering through its worst economic downturn since the Great Depression, there is no recession in the movie business. Led by the Warner Bros reboot of Friday the Thirteenth and a couple of surprisingly strong chick flicks, Hollywood's top twelve grossing movies may grab a combined $195M over the long President's Day weekend holiday, which marks an all-time best for the annual 4-day movie-going bonanza.
TOP GROSSING PRESIDENT'S WEEKENDS FOR HOLLYWOOD
- combined gross of top 12 films -
1. 2009 – $195M (estimated)
2. 2007 – $167.8M
3. 2008 – $141.1M
4. 2003 – $141M
5. 2005 – $137.1M
Director Marcus Nispel (2003's Texas Chainsaw Massacre remake) and the Platinum Dunes production company have gotten the all-new Friday the Thirteenth off to a spectacular $20M opening day. That could translate to a well-above-expectations $51.25M by Tuesday morning. The new Jason restart quickly follows the Platinum Dunes success of The Unborn, released on January 9 to a $19.8M 3-day take. That David D. Goyer written and directed genre pic was made for just $16M, and The Unborn has generated an estimated $42M in the US.
Friday the Thirteenth will finish the 4-day as either the #1 or #2 best grossing President's Day weekend title as it tries to chase down 2007's Ghost Rider.
ALL-TIME 4-DAY PRESIDENT'S DAY OPENINGS
1. Ghost Rider – $52M opening
2. Friday the Thirteenth – $51.25M opening (projected)
3. 50 First Dates – $45.1M opening
4. Daredevil – $45M opening
5. Constantine – $33.6M opening
6. Jumper – $32.1M opening
7. Bridge to Terabithia – $28.5M opening
8. Eight Below – $25M opening
9. The Spiderwick Chronicles – $24.7M opening
10. John Q – $23.6M opening
Platinum Dunes, headed by Tranformers director Michael Bay, has now added the successful Friday the Thirteenth franchise to its string of low budget horror pics, which includes the remake of The Texas Chainsaw Massacre ($28M opening – $80.5M cume), the remake of The Amityville Horror ($23.5M opening – $65.2M cume), Texas Chainsaw Massacre: The Beginning ($18.5M opening – $39.5M cume), the remake of The Hitcher ($7.8M opening – $16.4M cume) and the aforementioned The Unborn. The new Crystal Lake saga is, of course, heavily front-loaded, and its box office legs will be short (chopped off?), but Warner Bros can still safely expect a US domestic gross of something in the $80M-$85M range and at least a couple of cheaply-made sequels to follow.
Holdover He's Just Not That Into You (Warner Bros) is a strong #2 with a $5.05M second Friday and a possible $23.9M 4-day for a new 11-day cume of about $59.36M. Meanwhile, the French import Taken (Fox), from action maestro Luc Besson and cracker jack director Pierre Morel is continuing its amazing run, scoring $4.8M to start the frame and a shot at adding $23.8M by Tuesday. The Liam Neeson action flick's new cume will be over $82M, surpassing the $69M it has accumulated in foreign territories (the movie was released in most international markets before it ever played here in the US).
Confessions of a Shopaholic (Disney), based on Sophie Kinsella's bestselling novels and starring Isla Fisher, is performing very well, but slightly below expectations. The female-skewing comedy is tilting to the Under 25 crowd while managing a solid $4.4M on opening day, which could translate to $19.25M for the long weekend.
Rounding out the top 5 is Henry Selick's Coraline (Focus) scaring up another $3.14M to start the weekend and riding huge matinees Saturday, Sunday and Monday to a projected $19.1M for 4 days. With a new cume of almost $40M by Tuesday, it appears that the $60M film has a chance to be profitable.
The message from Tom Tywker's The International (Sony), seems perfectly-timed for our current world economy. Simplified, bankers are evil. If the theme doesn't work now, when will it work?
Tywker is responsible for one of the most innovative action movies of all time, Run Lola Run, and critics seem to appreciate his chase sequences in The International, starring Oscar nominees Clive Owen (Closer) and Naomi Watts (21 Grams), but the movie's opening weekend performance will be no better than respectable with $3M on Friday and a possible $12.6 for 4 days.
In other box office news, here's something I never thought I would see in print. Paul Blart: Mall Cop (Sony) passed $100M domestic on Friday.
EXCLUSIVE STEVE MASON EARLY FRIDAY ESTIMATES
1. NEW – Friday the Thirteenth (Warner Bros) – $20M, $6,441 PTA, $20M cume
2. He's Just Not That Into You (Warner Bros) – $5.05M, $1,591 PTA, $40.51M cume
3. Taken (Fox) – $4.8M, $1,544 PTA, $63.47M cume
4. NEW – Confessions of a Shopaholic (Disney) – $4.4M, $1,755 PTA, $4.4M cume
5. Coraline (Focus) – $3.1M, $1,336 PTA, $23.33M cume
6. NEW – The International (Sony) – $3M, $1,279 PTA, $3M cume
7. Pink Panther 2 (Sony) – $2.2M, $678 PTA, $15.52M cume
8. Paul Blart: Mall Cop (Sony) – $1.85M, $624 PTA, $100.66M cume
9. Push (Summit) – $1.75M, $757 PTA, $14.14M cume
10. Slumdog Millionaire (Fox Searchlight) – $1.36M, $833 PTA, $80.75M cume
11. Gran Torino (Warner Bros) – $1.34M, $584 PTA, $123.48M cume
12. The Uninvited (Dreamworks/Paramount) – $1.1M, $610 PTA, $20.46M cume
EXCLUSIVE STEVE MASON EARLY 4-DAY ESTIMATES
1. NEW – Friday the Thirteenth (Warner Bros) – $51.25M, $16,506 PTA, $55.25M cume
2. He's Just Not That Into You (Warner Bros) – $23.9M, $7,528 PTA, $59.36M cume
3. Taken (Fox) – $23.8M, $7,655 PTA, $82.47M cume
4. NEW – Confessions of a Shopaholic (Disney) – $19.25M, $7,679 PTA, $19.25M cume
5. Coraline (Focus) – $19.1M, $8,233 PTA, $39.33M cume
6. NEW – The International (Sony) – $12.6M, $5,371 PTA, $12.6M cume
7. Pink Panther 2 (Sony) – $10.75M, $3,313 PTA, $24.07M cume
8. Paul Blart: Mall Cop (Sony) – $9.25M, $3,120 PTA, $108.06M cume
9. Push (Summit) – $8.5M, $3,675 PTA, $20.89M cume
10. Slumdog Millionaire (Fox Searchlight) – $6.2M, $3,794 PTA, $85.59M cume
11. Gran Torino (Warner Bros) – $5.9M, $2,562 PTA, $128.04M cume
12. The Uninvited (Dreamworks/Paramount) – $4.95M, $2,130 PTA, $24.31M cume