Confirmed: Scarlett Johansson To Replace Emily Blunt As Black Widow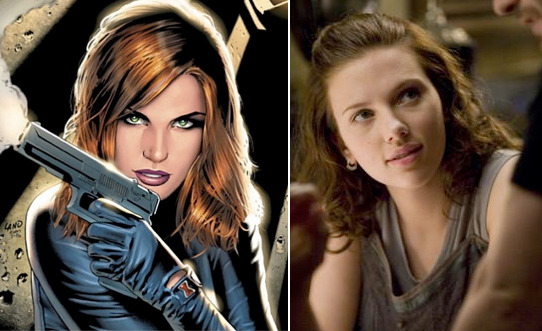 Update: Nikki Finke has now confirmed this story. Scarlett Johansson is now signed to play Black Widow in Iron Man 2, The Avengers and a series of connected Marvel adaptations. According to Finke, Scarlett originally screen tested for the role and lost the part to Blunt, who as you know had to step down due to contractual obligations. Read the original story after the jump.
A couple weeks ago it was revealed that Emily Blunt might have to step down from playing Black Widow in Iron Man 2 due a schedule conflict with Gulliver's Travels. Since then Eliza Dushku tossed her hat into the consideration pool, pleading fans to start a campaign to make it happen. Unfortunately for Eliza, it seems that Jon Favreau and Marvel have bigger names in mind for the part.
EW has learned that Scarlett Johansson is in talks to replace Blunt as Russian superspy Natasha Romanoff (aka the Black Widow).  Johansson has apparently met with the filmmakers and is interested in the part, and is just waiting for Blunt to officially give up the part. Blunt's reps are still trying to make the schedules fall into alignment but Iron Man still doesn't have a schedule or start date in place.
Aside from being sexy and a big name you can slap on the poster, Johansson doesn't seem right for the part at all. She's cute but not dangerous. Plus lets not forget, the last superhero film she was in, The Spirit, was just bad and was considered a bomb on every level (not that it was at all her fault... we know who to blame).
Discuss: Who should play the Black Widow? Is Scarlett the right woman for the part?