SXSW Film Festival Adds 500 Days Of Summer, Treevenge And More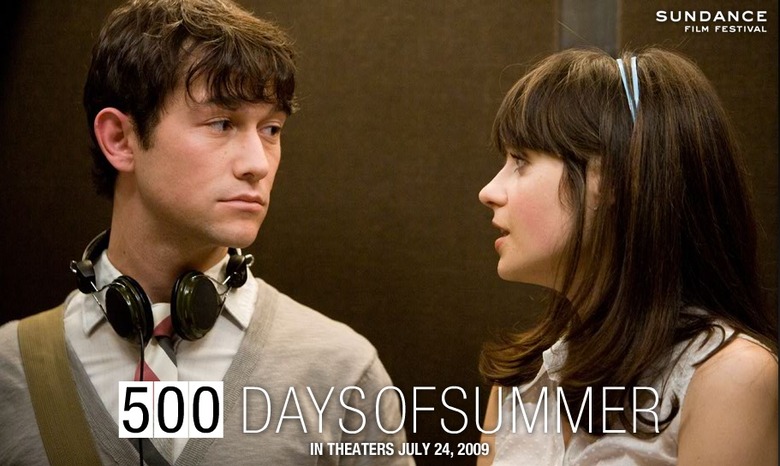 The 2009 South By Southwest Film Festival has announced their short film line-up as well as added a hand-full of additional feature films, the biggest of which is the Sundance Film Festival sensation 500 Days of Summer. Other notable features include the documentary Dungeon Masters, Broken Lizard's Slammin' Salmon and My Generation. Jason Eisener's awesome short Treevenge is included in the short film selection. You can read the full press release after the jump.
SXSW FILM ANNOUNCES SHORTS LINEUP, ADDITIONAL FEATURES FOR 2009 FILM FESTIVAL SCHEDULE LIVE AT SXSW.COM/FILM ON MONDAY
Austin, Texas – February 13, 2008 – The South by Southwest (SXSW) Film Conference and Festival is pleased to announce the short film lineup for this year's Festival, March 13 – 21, 2009 in Austin, Texas. Over the course of nine days, 127 short films will screen at the festival, selected from 2,071 short film submissions.
Additional features span all categories, and naturally bridge to the SXSW Music Festival. Titles include Alex Vlack's Still Bill, a documentary about music legend Bill Withers, My Generation, a documentary examining the three Woodstock festivals, directed by Academy Award-winning director Barbara Kopple, the rock documentary Iron Maiden: Flight 666, directed by Scot McFadyen & Sam Dunn, and Marc Webb's 500 Days of Summer, starring Zooey Deschanel and Joseph Gordon-Levitt.
"It's exciting to have the full line-up scheduled and ready to go, and we're always very proud of our shorts programs," says Film Conference and Festival Producer Janet Pierson, "Not only are they carefully curated with an eye towards a cohesive and entertaining 90-minute program, but we feel shorts provide an extremely fertile ground to discover new filmmaking talent."
The additional features and comprehensive shorts lineup follow below. The schedule, complete with both screening and panel dates and times, will be available on Monday, February 16th at http://www.sxsw.com/film. Visit often for more information and updates.
FEATURES
500 Days of Summer – Closing Night, Spotlight Premiere
Director: Marc Webb. Screenwriter: Scott Neustadter, Michael H. Weber
When an unlucky greeting card copywriter is dumped by his girlfriend, the hopeless romantic shifts back and forth through various periods of their 500 days 'together' in hopes of figuring out where things went wrong.
Cast: Zooey Deschanel, Joseph Gordon-Levitt
Afterschool – Special Screening
Director/Writer: Antonio Campos.
Robert is obsessed with observing reality in the form of viral clips on his computer screen, some sweet, some violent, some pornographic. When he joins a video class in school, he has the chance of documenting his own reality there, which includes the violent death of two fellow students. Cast: Ezra Miller
Along Came Kinky...Texas Jewboy for Governor – Lone Star States
Director: David Hartstein
This documentary chronicles singing Jewish cowboy Kinky Friedman's 2006 independent gubernatorial campaign in Texas. (World Premiere)
Died Young, Stayed Pretty – Emerging Visions
Director: Eileen Yaghoobian
This movie about rock posters is a candid look at the renaissance of North America's underground, indie-rock poster movement spurred by the unexpected launch of groupie Clayton Hayes' web portal Gigposters.com. (U.S. Premiere)
Dungeon Masters – Special Screening
Director: Keven McAlester
Against the backdrop of crumbling middle-class America, two men and one woman devote their lives to Dungeons and Dragons, the storied role-playing game, and its various descendants. As their baroque fantasies clash with mundane real lives, the characters find it increasingly difficult to allay their fear, loneliness, and disappointment with the game's imaginary triumphs. (U.S. Premiere)
The Eyes of Me – Lone Star States
Director: Keith Maitland
An extraordinary look at four blind teenagers. Shot at the Texas School for the Blind in Austin, Texas, the parallel stories of two freshmen and two seniors unfold over the course of one dynamic year. (World Premiere)
Golden Hornet Project Film Event – Metropolis with Original, Live Score – Special Screening
Wyatt Brand helps bring a spectacular film and music convergence event to SXSW Film with Golden Hornet Project's screening and live, original score for Fritz Lang's 1927 classic silent masterpiece Metropolis.
Iron Maiden: Flight 666 – 24 Beats Per Second
Directors: Scot McFadyen and Sam Dunn
A rare behind-the-scenes look at one of the world's most influential bands as they fly 50,0000 miles around the globe in their customized Boeing 757, "Ed Force One" (piloted by singer Bruce Dickinson), on their 2008 world tour. (North American premiere)
My Generation – Special Screening
Director: Barbara Kopple
A documentary examining the enduring influence of the Woodstock legacy and the continuing search for community and ritual through the experiences of boomers and Gen X'ers at the three Woodstock Festivals.
René (Czech Republic) – SX Global
Director: Helena Tetíková
This raw authentic documentary film tells the story of a man whose life was being captured on camera since he was seventeen. The camera followed his hopeless journey between prison and brief periods outside the prison walls.
The Slammin' Salmon – Special Screening
Director: Kevin Heffernan. Writer: Broken Lizard
The story of a restaurant owner and former heavyweight champion who, over one night in his restaurant, institutes a high stakes, Glengarry Glen Ross like competition amongst the wait staff that leads to hilarious results. Cast:
Kevin Heffernan, Steve Lemme, Paul Soter, Erik Stolhanske, Jay Chandrasekhar, Michael Clarke Duncan, Cobie Smulders & April Bowlby
Still Bill – 24 Beats Per Second
Director: Damiani Baker and Alex Vlack
A feature documentary about Bill Withers, whose hits 'Ain't No Sunshine,' 'Lean on Me,' 'Lovely Day,' and 'Just the Two of Us,' are only part of a complex and fascinating man. The film includes a tribute concert, the closing show of the 30th anniversary season of Celebrate Brooklyn in New York, and a soundtrack of previously unreleased tracks. (World Premiere)
REEL SHORTS ONE
Alexandria
Director: Eric Elofson.
Three men are trapped in a bookstore at the end of the world, and they must decide who or what can be saved before a massive flood drowns them all.
Cochran
Director: James P. Gannon.
Jim's Cochran's life is stagnant; he makes no attempt to change and instead accepts his fate, living inside of his head with his memories of the past. One fateful day while walking alone in the woods he finds something on the ground, his decision to pick it up will change his life forever.
Countertransference
Director: Madeleine Olnek
An awkward woman with assertiveness issues finds her problems multiplied in therapy.
Hi Mom
Director: Amylee Belotti
An embellished look into the artist's view of her family and friends.
Hug
Director: Khary Jones
Drew is a virtuoso musical talent, with a music contract ready to sign. Asa, his friend and manager, must physically get Drew to the contract signing. When Asa realizes that Drew is off his meds, the morning commute turns troubling.
Isis Avenue
Director: Paul Marchand
An intimate short film documenting a 'crime-scene cleanup' crew's early morning excavation of a home left abandoned by its deceased owner in Ingelwood, CA.
That's My Majesty
Director: Emily Carmichael
Princess Moon has arrived in NYC on a mission to crown the new queen of her people. But the chosen queen is busy architect. As the Princess persists in her mission, the architect finds her workday interrupted at all the wrong moments, until a fateful decision gives both women what they didn't know they wanted.
Sunday Mornings
Director: Jannicke Laker
A story about a woman who returns to her flat after an extended drinking session in town.
Winter Lilacs
Director: Stephen Gurewitz
Chet Harvey tries to get a date to impress his aging mother Bernadette.
REEL SHORTS TWO
a'mare
Director: Martina Amati
Andrea and Felice are two kids whose lives centre around the sea. One day during a fishing excursion their usual routine is disturbed when something unexpected appears from the water
Autopilot
Director: J.B. Herndon
Adolescent boys ghostride bicycles. Inertia pulls a father and son toward an eerie kinship. And time is a circle.
Before the Sea
Director: Charlene Music
A little boy and his fisherman father confront life and death at the edge of the ocean, where their idle drag boat, the Anne Marie, blankets them in a dream.
Happy 95th Birthday Grandpa
Director: Gary Huggins
A fleeting memory in five minutes.
John Wayne Hated Horses
Director: Andrew Betzer
A father and his young son share a house, a yard, and very different ideas about masculinity and appropriate uses of army toys.
Peter and Ben
Director: Pinny Grylls
A man moves away from civilization and strikes up a relationship with the sheep.
Round Trip
Director: David Martin-Porras
The customs of an American airport places a mother and her son in a revealing situation when his luggage is inspected. Forced to deal with their past, they come to a point where lying to each other is no longer an option.
Sister Wife
Director: Jill Orschel
In a time when the practices of Mormon fundamentalism offer sensational fodder for the evening news, but little honesty, Sister Wife offers a rare and unflinching glimpse into a cloistered lifestyle.
Tess and Nana
Director: M. Stewart Thorndike
Thirteen-year-old Tess wants to get out of sick grandmother's dark house.
REEL SHORTS THREE
A. Effect
Director: Mike Ott
Two aspiring actors do their best to woo the same girl with their knowledge of Brecht and Scorsese.
The Better Half
Director: Rebecca Rodriguez
A disconnected man keeps a mysterious pair of mannequin legs in his room in NYC. Encounters with three women gradually reveal the origin and importance of the legs and ultimately raise the question, can you ever get all of someone?
The Golden Pose
Director: Lance Alton Troxel
A street performer grapples with artistic perfection...and mimes.
Non-Love Song
Director: Erik Gernand
On the last day of summer before heading off to college, two 18-year old best friends attempt to connect as adults and for the first time in their lives share a real moment.
Thick as Thieves
Director: Chris Demarais
When a successful businessman encounters an eccentric mugger in an alley, he decides that maybe banking isn't really his forte.
Thompson
Director: Jason Tippet
Since second grade Matt and Ryan have shared the bond of speech impediments, weapons, and things that go fast. But as their last days of high school speed by, the two friends find that their go-carts, dirt bikes, and RC cars can't outrun adulthood.
Unlimited
Director: Andrew Luis
A travelogue that follows Ben, a young Chinese immigrant, as he cobbles together an existence selling the cast-offs of others.
Wing It
Director: Julio Quintana
When a drug deal goes wrong and a violent confrontation seems inevitable, two guardian angels must decide whether to take action to protect their guys, or risk losing their wings.
EXPERIMENTAL SHORTS
100 MG
Director: Mike Kash
A meditation on the first couple weeks of starting antidepressants.
Bigband
Director: Daniel Calvo
A journey into contemporary urban world that forces a reflection on our society's day-to-day paradoxes.
Cattle Call
Director: Matthew Rankin
A high-speed animated documentary about the art of livestock auctioneering.
Chronicles of a Professional Eulogist
Director: Sarah Jane Lapp.
An animator's immortality project.
Dear Texas Highways
Director: Shaun Roberts
A suicide note with a happy ending.
The Idiot Stinks
Director: Helder Sun
Animation, Angst, Media, Martians and Miscommunication.
The Nature Between Us
Director: William Campbell
In a swirl of spray paint, sweet bike tricks, sloppy joe's and young love, a bonkers back-alley gang stumble upon a tiny secret world, creating a reality bending mash up of culture and style.
Turning Trick
Director: Kaja H. Lejon
Five girls are in a park. At first it looks like they are playing hide and seek but it quickly develops into something quite different.
ANIMATED SHORTS
Birth
Director: Signe Baumane
A young woman is pregnant and afraid to give birth. For a consolation and advice she goes to older women but their stories scare her even more.
Haunted House (SXSWClick Winner)
Director: Ross Wilsey
A bastardization of the classic comedy story, told from the perspective of scumbag puppets and their terrible deaths.
Here's the Stapler if You Need It
Director: Lance Myers
It's Lester's first day on the job at Copy-O's copy shop and his manager has given him one very important directive: don't let the customers use the big paper cutter in the back.
Hollerings: 3 Stories in Wood
Director: Lara Gallagher
The quiet anxieties of wood.
Luca Brasi Sleeps with the Fishes
Director: Simon Hawkins.
What may possibly have happened to Luca Brasi after he was assassinated.
Milbe (Mite)
Director: Karl Tebbe
A short animation about a grandmother, Oma Grete, and gigantic house dust mites that threaten to destroy the world.
Paradoxes and Oxymorons
Director: Kate Raney
An animated version of John Ashbery's poem "Paradoxes and Oxymorons." Narrated by DJ Spooky.
Photograph of Jesus
Director: Laurie Hill
Looking for photographs of Jesus, yetis and Hitler in 1948? Help is at hand with this documentary-fantasy based on true stories of requests for impossible images.
Rosa Rosa
Director: Félix Dufour-Laperrière.
While war is thundering at the gates of the city, Rosa and her lover live serenely together, trying to preserve a fragile normality.
Shaman
Director: Luc Perez
Waiting for the bus on a rainy day in Copenhagen, the old shaman Utaaq sees a rare bird from his past. This makes him reminisce his youth, and a beautiful tale about the forces of nature begins.
Solitude Past
Director: My Sandstrom
Ingrid is the loneliest woman in the world. She feels sorry for herself and begrudges others their happiness. When she gets close to another person she can no longer deal with her emotions and is swallowed up by her longing.
Sweet Dreams
Director: Kirsten Lepore
A stalwart cupcake escapes from his native land to discover what lies beyond the sugar skyscrapers and candy-condos. His violent shipwreck on a foreign shore forces him to adapt to a new lifestyle.
Tourist
Director: Matthew K
A tourist fights the crowds as he attempts to snap the perfect picture of New York. In a city full of landmarks, there will always be someone to ruin your shot.
Trepan Hole
Director: Andy Cahill
A dance between figures, clay, thought and sexuality.
You're Outta Here
Director: George Griffin
A feisty descendant of Betty Boop has finally had enough: she kicks out her clueless boyfriend while delivering a taunting, full-throated indictment, based on the barrelhouse rhythm of Fats Waller.
TEXAS SHORTS
Alexander Family Farm
Director: Keeley Steenson
Kim Alexander, a chicken farmer, lives in the outskirts of the city of Austin, about as close to the city you can get and still be country. This documentary takes a look at the technical aspects of egg and chicken farming, and Kim's philosophical approach of returning to the land as a way of life.
Casimiro
Director: Sergio Rabczuk
The story of an illegal immigrant as captured in a letter he writes to his family.
Coffee
Director: Vicky Wight
A woman, in a daze following the collapse of her relationship, tries to make a simple cup of coffee.
Entre Lineas (In Between Lines)
Director: Maru Buendia-Senties
A story about two friends that live on different sides of the Mexican-American border. As we follow Caroline and Ricardo we get a close look at the lifestyle of Mexican and Mexican-Americans and the universal struggle to maintain and find our own identities in a multicultural society.
Jack & Holly
Director: Robbie Bourland
A young husband has lost his job and is reluctant to lean on his wife for emotion and finical support.
Love Sadie
Director: Naiti Gamez
Sadie and her high-school friends struggle to escape the banality of everyday life. Her friends search for approval, and answers about life, from Sadie, the one confidant who can't articulate her own reality.
Tough Love
Director: Thomas Hackett
A look at the devotion and affection that young men and seek and express through the rituals of boxing.
Uprush
Director: Kim Hall
When a girl must decide between her best friend and her family, she chooses neither.
Ventilo
Director: Jerin Crandel
An alternate universe where dance replaces language and acceptance means everything.
MIDNIGHT SHORTS
Big Pussy
Director: Todd Strauss-Schulson
A nice-guy struggles to find the confidence to tell the girl he loves that her vagina has... an odor.
Boob
Director: Jonathan Milott and Cary Murnion
A boob job goes horribly wrong.
Butthole Lickin'
Director: Kanako Kyle Wynkoop
Sometimes lesbian love isn't all it's cracked up to be.
The Famishing
Director: Toby Gorman and Jay Rathore
On a remote mountaintop, two hungry survivors get more than they bargain for in their quest for nourishment.
Fish Out of Water – The Nightmare
Director: Ben Barnes
In a follow up to last year's Midnight Short, Tumble and Chestnut attempt to enter Fish's nightmare to ward off the embodiment of all things evil.
Food for Thought
Director: Will Hartman
Two impulsive teens get a lesson in abstinence after they're caught "in the act" by their teacher.
I Live in the Woods
Director: Max Winston
A woodsman's frantic journey, driven by happiness, slaughter, and a confrontation with America's God.
Manbabies
Director: Kirk Johnson
Two smooth talking toddlers discuss politics, the state of the economy, and poo.
Receive Bacon
Director: James M. Johnston
A raunchy bathroom tryst is interrupted by an unfortunate case of the giggles.
Safety First
Director: Ross Wilsey
When it comes to guns and explosives, safety first.
Scatterbrained!
Director: Joe Avella
An educational video about an illness known as Scatterbrained. And Mountain Dew.
Treevenge
Director: Jason Eisener
Where do Christmas trees come from? Oh, you'll see.
Warm and Fuzzy Feeling
Director: Matt Dilmore
A warm and fuzzy holiday treat for Grandma.
SX GLOBAL SHORTS
A Vida Politica (Brazil)
Director: Katrina Mansoor
Negra Jho is a larger than life activist from Salvador, Brazil. Her form of activism is hairdressing, and she uses it to engage and empower her many clients and admirers.
Bitch Academy (Russia)
Director: Alina Rudnitskay
Young women in St. Petersburg are going to school again. They want to learn how to seduce, marry and control men. Bitch academy/ Vixen Academy is a tragicomic documentary of early Russian capitalism, which proliferates in an atmosphere of fear and hope, the dreams and intimacies of its young generations.
Calling Home (Scotland)
Director: Maria Andrade
For most Londoners, home is here but also somewhere at the other end of a phone line. 'Calling Home' is a gripping portrait of long distance relationships.
engage and empower her many clients and admirers.