TV Buzz: Delocated On [Adult Swim]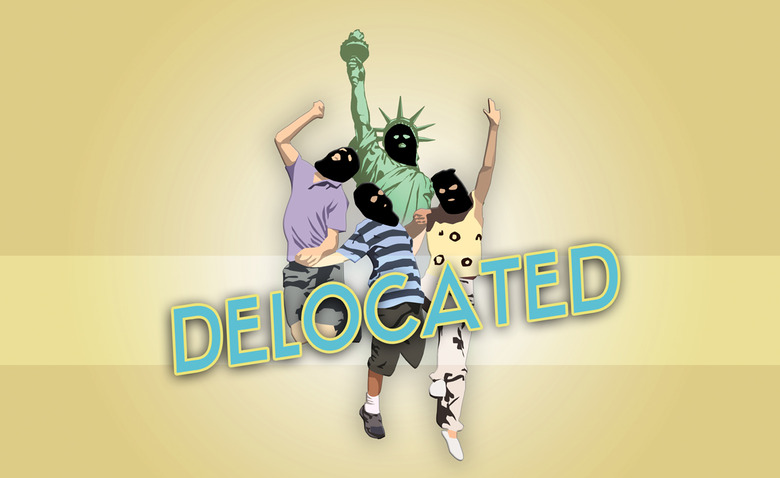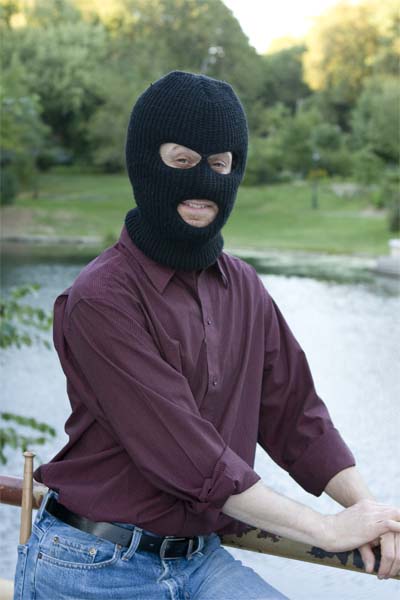 UPDATE: The pilot episode of Delocated can now be streamed online. Check it out.
So, I just finished viewing the first two episodes of Delocated, the new live-action series on [adult swim] about a family in the witness protection program that "delocates" to NYC to star in a reality show. The series' creator and and star is funnyman Jon Glaser, best known for his work as a writer on Late Night with Conan O'Brien and a compadre of Human Giant. To describe what I just watched in one word: (f)uncomfortable. In 29: After I stopped laughing at the "Bar Mitzvah" episode, a strange darkness overcame me when I wondered what would happen if Delocated suddenly appeared in the Cleavers's living room.
As gleefully expressed in the above image, the show's family of "Does" is required to wear ski masks in public at all times, but also in private due to constant filming. Even more bizarrely, the family's voices are surgically disguised with "harmonizers." This adds a "crime show confession" paranoia to their casual back-forths, bouts of flirting, arguments and more formal elocution (re: the son's ska-themed bar mitzvah). My favorite aspect so far is that each family member—the dad, the mom and son—address each other and everyone they encounter under an alias. As the opportunistic father, Glaser goes by "Jon." We aren't given their real names or a surname, and the warped detachment allowed these masked characters—if it holds—will only intensify and irk viewers as the show progresses.
Paul Rudd (and his filmography) makes a cameo in the pilot episode and comedian Eugene Mirman stars in the series as a Russian hitman out for revenge and—evidently not "or"—a career in stand-up. Clearly, Delocated is the next step for [adult swim] in the direction of live-action in addition to being a splattery platform for the ongoing sonic comedy boom in our pop culture; Many diehard messageboarders have and will continue to angrily attest that the programming on [as] is moving away from its roots in subversive animation and anime to secure a higher and more lucrative profile. You may or may not know that actor John C. Reilly is on deck for a live-action spin-off for his Dr. Steve Brule character from Tim and Eric Awesome Show, Great Job! Chances are if his show was on NBC you would.
For all its post-post 9/11 anxieties and unhinged embrace of the illogical, Delocated plays on the hyper-familiar constructs of sitcoms and reality shows in a way that seems pretty accessible to me, once a naughty word in this lovely Land of Effed. But as far as TV goes, and so much of it is going nowhere or past hell (MTV), Glaser and Co. are bringing scenarios and visuals to these formulas that I don't think our subconsciousnesses have yet entertained. Also, the show introduced me to the word "Skalocaust."
Delocated airs tonight on [adult swim]/Cartoon Network at 10:30 p.m. EST, and Thursdays at 10:30 p.m.
Discuss: If you tune in tonight, let us know what you think or did not think of Delocated.