Iron Man 2: Eliza Dushku Wants To Be The Black Widow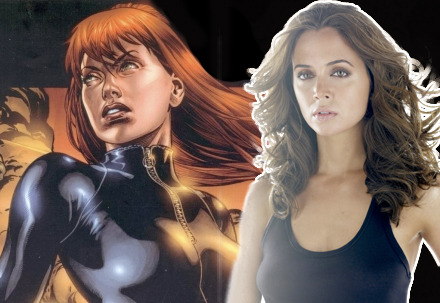 Eliza Dushku appeared on the Howard Stern Show on Sirius/XM Radio this morning to promote her new television show Dollhouse. Things got interesting when the topic of conversation went to Robert Downey Jr and Iron Man. Dushku explained that she would love to play The Black Widow in Iron Man 2.
"They're doing Iron Man 2, and I'm so perfect for the Black Widow character, that they just need to get into it. They need to understand... I just learned Russian because I had to play a Russian girl in Dollhouse."
I get the impression from the way she just brought it up that she's already either put her name in for the part or possibly even auditioned for the role. Emily Blunt was awarded the role but 20th Century Fox has an option on the actress and the studio wants her to play the romantic lead in Gulliver's Travels. Last we heard the two production schedules were conflicting and Blunt might be forced to give up the role. And if that happens, Marvel will need a new Black Widow. Eliza went to give a plea to the audience to convince Marvel Studios to give her a chance.
"Maybe we could all tell them. Lets get on a Black Widow Iron Man 2 campaign."
If there isn't an online petition, I'm sure one will be created any minute now. And later when Dushku was leaving the studio, she told Howard to "call Favreau" and put in a good word fr her. Thanks to /Film reader Christopher M for the tip.