Juno, WALL-E And The Dark Knight Take Home Grammy Awards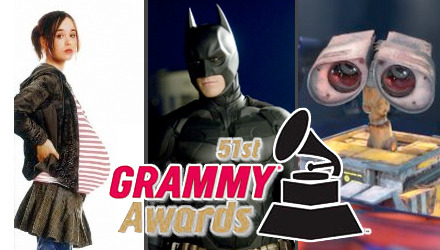 The 51st Annual Grammy Awards are in progress, and the movie awards were front loaded.
The soundtrack for Fox Searchlight's Juno won a Grammy for Best Compilation Soundtrack, beating out American Gangster, August Rush, Mamma Mia and Sweeney Todd.
James Newton Howard and Hans Zimmer took home a trophy for Best Score for The Dark Knight, beating out Indiana Jones and the Kingdom of the Crystal Skull, Iron Man, There Will Be Blood and Wall-E.
And the Grammy for Best Motion Picture Song went to Thomas Newman and Peter Gabriel for "Down to Earth" from Pixar's WALL-E, beating out Carrie Underwood's Ever Ever After from Enchanted, John Mayer's Say from The Bucket List, Amy Adams' That's How You Know from Enchanted and John C Reilly's Walk Hard from Walk Hard: The Dewey Cox Story. As much as I loved WALL-E, I still think the Newman/Gabriel song is overrated, and would have liked to see Amy Adams of John C Reilly walk away with a Grammy, but alas, I don't get to vote in the Grammys.