Box Office: He's Just Not That Into Headed For $29M Weekend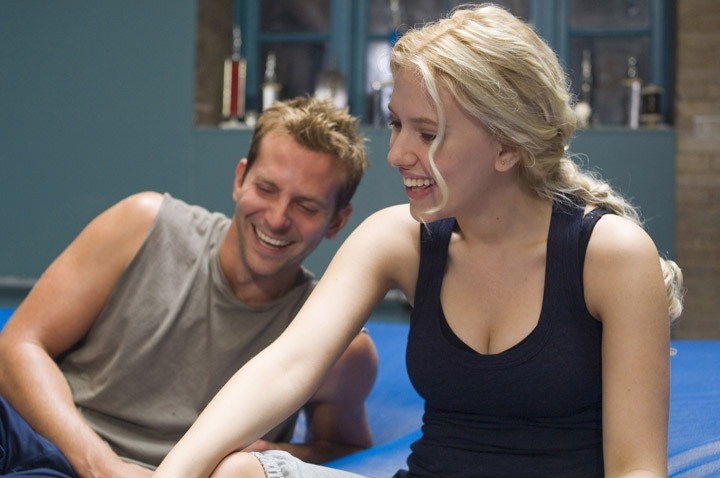 The Drew Barrymore-produced romantic comedy He's Just Not That Into You has made the jump from catch-phrase to self-help book to movie hit. With an all-star cast this classic 'chick flick" appears to be winning the weekend after posting a spectacular $10.5M in opening day ticket sales. That should mean a 3-day start of $28.87M or so, easily out-pacing holdover Taken (Fox) and three other new wide releases. With this kind of opening, Not That Into You could reach almost $60M by the end of next weekend (a 4-day Presidents/Valentine's combo), which would forecast a potential $90M in US ticket sales.
The new movie developed by New Line and now released by Warner Bros is based on the book of the same name co-written by former Sex & the City scribes Greg Behrendt and Liz Tucillo. The line itself has come to be a reassuring fallback for women in the dating scene (and I'm guessing single guys have adopted the mentality as well in the rough-and-tumble world of dating).
Produced by Flower Films, founded by Barrymore and Nancy Juvonen (wife to soon-to-be late night TV host Jimmy Fallon), Not That Into You features a blockbuster cast, including Oscar winner Jennifer Connelly (A Beautiful Mind), Ben Affleck (Hollywoodland), Kevin Connolly (from HBO's Entourage), Justin Long (the Mac guy from the Apple vs. PC commercials), Bradley Cooper (Wedding Crashers), Scarlett Johansson (Vicky Cristina Barcelona) and Barrymore herself. But the star who seems to add the most sizzle to the project is the one who's literally "lived" the catch-phrase.
Emmy winner Jennifer Aniston, who reached super-stardom as Rachel on NBC's mega-hit Friends, has been almost constant tabloid fodder since she fell into the arms of Brad Pitt. Among Hollywood's most bankable big screen actors, the marriage seemed to elevate her to show biz royalty – until she found out that Brad was "just not that into" her.
Aniston turns 40 on Wednesday, but she made an appearance on Ellen and talked about the milestone, "I found a really long gray hair, and it kind of flipped me out. It's not my first, but it's the fact that it was so long. I was like, 'Oh that's been there. How many others are there, and what does that mean? It actually brought me to tears, slightly." Gray hair or not, she continues to have an "on-again-off-again" romance with Grammy winning pop star John Mayer, who is about nine years her junior.
Since her divorce from Pitt, the almost-40 actress has proved to be formidable at the box office.
JENNIFER ANISTON'S LAST FIVE MOVIES
Rumor Has It – $7.5M opening (first full weekend) – $43M cume
Friends with Money – $3.2M (wide break) – $13.3M cume
The Break-Up – $39.1M opening – $118.7M cume
Marley & Me – $36.3M opening – $140M (to-date – likely to reach $145M)
He's Just Not That Into You – $28.87M opening (projected) – $90M cume (projected)
AVERAGE OPENING WEEKEND- $23M
AVERAGE DOMESTIC GROSS – $82M
BRAD PITT'S LAST FIVE MOVIES
Babel – $5.5M opening (wide break) – $34.3M cume
Ocean's Thirteen – $36.1M opening – $117.1M cume
The Assassination of Jesse James – $532K opening (widest weekend) – $3.9M cume
Burn After Reading – $19.1M opening – $60.3M cume
The Curious Case of Benjamin Button – $26.8M opening – $117.6M (to-date likely to reach $126M)
AVERAGE OPENING WEEKEND – $17.6M
AVERAGE DOMESTIC GROSS – $68.3M
There's a bit of an apples-to-oranges problem when comparing these resumes, and Brad certainly has more acclaim with Golden Globe nominations for Babel and Burn After Reading and Oscar and Golden Globe nominations for Benjamin Button, but Jen is no slouch when it comes to selling tickets. She will next be seen starring alongside The Dark Knight's Aaron Eckhart in Universal's Traveling due later in the year.
Checking in at #2 is the excellent Luc Besson-produced and Pierre Morel-directed action flick Taken, starring Liam Neeson. The tale of the world's most "kick-ass" Dad trying to rescue his daughter seized another $6M on its second Friday and that should translate to an outstanding $18.3M for a new 10-day cume of $51.3M. That would represent only a 26% dip from opening weekend.
The surprise third-place finisher is Henry Selick's Coraline (Focus), based on Neil Gaiman's Hugo Award winning novel. Riding a tidal wave of positive reviews (88% Fresh on Rotten Tomatoes) and featuring state-of-the-art 3-D technology, the stop-action animated film has generated $4.2M in opening day sales, and it could reach $15.12M for the frame. That is well above the number that pre-release tracking suggested.
The film was made for a relatively hefty $60M, and the languid pace of digital conversion at America's multiplexes means that there are only about 900 screens showing Coraline in 3-D with the other 1,400 or so in traditional 2-D presentation. Given the movie's dark tone and the limited availability of 3-D, Focus will be thrilled with a $15M start.
The major disappointment of the 3-day is Pink Panther 2 (Sony). The reviews have been horrific (14% Fresh on Rotten Tomatoes), and Steve Martin must realize that, although he may be cashing a big paycheck, the brilliant Peter Sellers is almost certainly "spinning in his grave." After a $20.2M opening for the original sub-par remake in 2006, Pink Panther 2 appears to be a dud with a meager $4.1M Friday. The picture will skew young and receive a decent Saturday and Sunday matinee bounce, but the sequel's opening frame will likely be about $13.94M, down a full 31% from Martin's last go-round as Inspector Clouseau.
The other new wide release is Push (Summit Entertainment), which is in the mold of NBC's Heroes and the X-Men franchise. Reviews are pretty awful (27% Fresh on Rotten Tomatoes) and the box office performance equally disappointing. The picture delivered only $3.05M or so on Friday (#5 for the day), and it will stumble to a soft $8.38M, likely sixth for the weekend behind Paul Blart: Mall Cop (Sony). The under-estimated Kevin James comedy meanwhile, will add another $8.5M or so over the 3-day for a new cume of $94.5M.
EXCLUSIVE STEVE MASON EARLY FRIDAY ESTIMATES
1. NEW – He's Not That Into You (Warner Bros) – $10.5M, $3,307 PTA, $10.5M cume
2. Taken (Fox) – $6M, $1,884 PTA, $39.06M cume
3. NEW – Coraline (Focus) – $4.2M, $1,828 PTA, $4.2M cume
4. NEW – Pink Panther 2 (Sony) – $4.1M, $1,264 PTA, $4.1M cume
5. NEW – Push (Summit) – $3.05M, $1,319 PTA, $3.05M cume
6. Paul Blart: Mall Cop (Sony) – $2.5M, $789 PTA, $88.5M cume
7. The Uninvited (Paramount) – $2M, $853 PTA, $13.97M cume
8. Slumdog Millionaire (Fox Searchlight) – $1.65M, $957 PTA, $71.67M cume
9. Gran Torino (Warner Bros) – $1.4M, $518 PTA, $114.43M cume
10. Hotel For Dogs (Dreamworks/Paramount) – $5M
11. Underworld: Rise of the Lycans (Sony) – $1.3M, $637 PTA, $37.05M cume
12. New in Town (Lionsgate) – $1.15M, $592 PTA, $9.77M cume
EXCLUSIVE STEVE MASON EARLY 3-DAY ESTIMATES
1. NEW – He's Not That Into You (Warner Bros) – $28.87M, $9,094 PTA, $28.87M cume
2. Taken (Fox) – $18.3M, $5,747 PTA, $51.36M cume
3. NEW – Coraline (Focus) – $15.12M, $6,580 PTA, $15.12M cume
4. NEW – Pink Panther 2 (Sony) – $13.94M, $4,298 PTA, $13.94M cume
5. Paul Blart: Mall Cop (Sony) – $8.5M, $2,682 PTA, $94.5M cume
6. NEW – Push (Summit) – $8.38M, $3,626 PTA, $8.38M cume
7. The Uninvited (Paramount) – $5.9M, $2,517 PTA, $17.87M cume
8. Hotel For Dogs (Dreamworks/Paramount) – $5.5M, $2,012 PTA, $54.91M cume
9. Slumdog Millionaire (Fox Searchlight) – $5.28M, $3,063 PTA, $75.3M cume
10. Gran Torino (Warner Bros) – $4.9M, $1,811 PTA, $117.93M cume
11. Underworld: Rise of the Lycans (Sony) – $4.09M, $2,005 PTA, $39.85M cume
12. New in Town (Lionsgate) – $3.73M, $1,926 PTA, $12.36M cume