First Look: Megan Fox In Jennifer's Body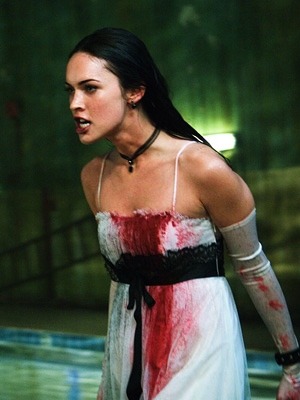 /Film reader Stark1288 sent me this official production photo from the Jason Reitman-produced, Diablo Cody-scripted horror film Jennifer's Body.
Update: Turns out the photo came from Entertainment Weekly, and we've now replaced the photo with a clear version.
Yes, that is Megan Fox, who plays a possessed cheerleader in the film, and in the photo is drenched with blood. I'm not sure exactly where the photo came from, appears to be a scan from a magazine. When small-town high school hottie Jennifer (Megan Fox) is possessed by a hungry demon, guys who never stood a chance with her, take on new luster in the light of Jennifer's insatiable appetite. From the Oscar-winning screenwriter of "Juno." Jennifer's Body hits theaters on September 18th 2009.