Universal Studios To Reopen Backlot In Mid-Summer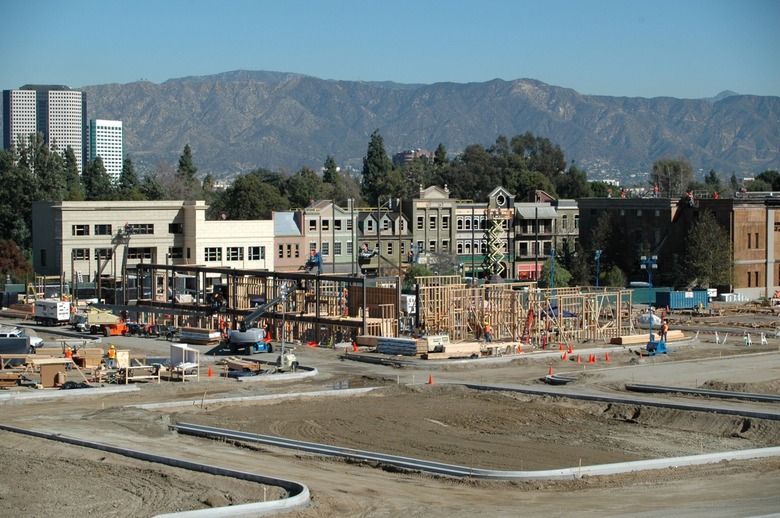 If you remember, about a year ago a big fire burnt down a large portion of Universal Studio's backlot. The studio as released a photo and press release announcing that construction is underway to rebuild the backlot, which will reopen this Summer. Click on the image above to enlarge, and read the full press release after the jump.
CLASSIC MOVIE SETS AND NEW SHOOTING LOCATIONS TO OPEN AT UNIVERSAL STUDIOS IN MID-SUMMER, ONE YEAR AFTER FOUR-ACRE STUDIO FIRE
Universal City, California, February 3, 2009 –A little over a year after a fire damaged four acres on the world's largest working movie studio lot, Universal Studios will re-open in mid-Summer most of its iconic sets and will unveil innovative shooting locations designed to meet contemporary film production needs. The new and re-created sets will be featured on the world-famous Universal Studios Hollywood Studio Tour—recently upgraded with Hi-Def digital servers and flat screen monitors—and will enhance visitors' behind-the-scenes experience of a working studio environment.
Beginning in mid-summer, production will resume on the world- famous Courthouse Square, Brownstone Street and an enhanced New York Street. The new locations to be introduced this year will include a gas station, a firehouse, a London Street and, most notably, a modern urban cityscape, with glass and steel façade structures that will provide film and TV crews with the opportunity to replicate a modern city street scene in a controlled studio environment. The contemporary cityscape will be the largest modern urban backlot shooting location in Los Angeles.
These advanced facilities were constructed to provide ideal shooting conditions for contemporary productions, and were designed with the assistance of leading filmmakers and art directors. Additional sets will remain in construction and are planned to open in 2010.
The great majority of the studio's famous standing sets and locations, including the "War of the Worlds" set, Western Streets, European Street, Mexican Street, the Psycho House-Bates Motel, and "Desperate Housewives" Wisteria Lane were untouched by the fire and have remained in continuous use for dozens of motion picture and television productions.
During the reconstruction phase of the backlot, Studio Tour guests will experience a panoramic view of the construction and dramatic transformation taking place at the historic studio. The Studio Tour is a signature attraction at Universal Studios Hollywood, The Entertainment Capital of L.A., and is also being upgraded this year to feature a Hi-Definition TV digital system, with new flat-screen HD monitors installed in each Tram car. The new monitors will feature commentary from filmmakers and stars and clips from movies and TV productions, many created especially for the Studio Tour and all corresponding to the sites visited along the Tour route. Because the Tour is constantly changing to accommodate movie and TV production schedules, a custom Hi-Definition playback system was designed to allow for the selection of material from the hundreds of clips created for the Studio Tour attraction.
Beginning June 1, "The Tonight Show with Conan O'Brien" will debut in a newly renovated sound stage located on the Universal Studios lot. As Emmy Award-winning host Conan O'Brien moves to California, the show's state of the art studio will become a featured showpiece of the Studio Tour.
Universal Studios Hollywood (www.UniversalStudiosHollywood.com), The Entertainment Capital of L.A., includes a movie-based theme park and Studio Tour, the CityWalk entertainment, shopping and dining complex, the Universal Cinemas and the Gibson Amphitheatre concert and special event venue. The theme park features the groundbreaking attractions "The Simpsons Ride," "Revenge of the Mummy—The Ride," "Shrek 4-D," "Jurassic Park—The Ride" and the world-renowned Studio Tour, which takes guests behind-the-scenes of such landmark TV and movie locations and sets as Steven Spielberg's "War of the Worlds" and "Desperate Housewives." Universal CityWalk features 65 entertainment-themed restaurants, nightclubs, shops and dynamic entertainment options. The Universal CityWalk Cinemas, which includes California's largest IMAX venue, features the best movie-going experience in Los Angeles.
Universal Studios Hollywood is a unit of Universal Parks & Resorts, a division of Universal Studios, a part of NBC Universal. NBC Universal is one of the world's leading media and entertainment companies in the development, production, marketing of entertainment, news, and information to a global audience. Formed in May of 2004 through the combining of NBC and Vivendi Universal Entertainment, NBC Universal owns and operates a valuable portfolio of news and entertainment networks, a premier motion picture company, significant television production operations, a leading television stations group, and world renowned theme parks. NBC Universal is 80% owned by General Electric, with 20% controlled by Vivendi Universal.