Aaron Sorkin To Write The Challenge With Clooney As Producer And Star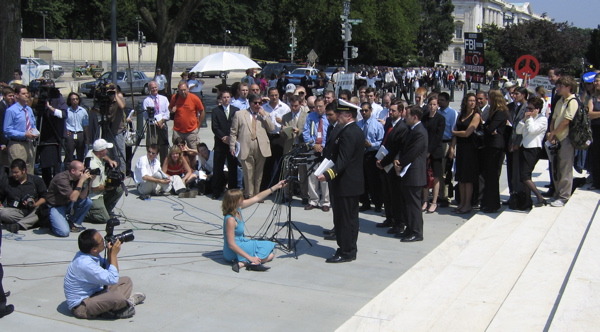 According to Variety, Aaron Sorkin has been tapped to write Warner Brothers' The Challenge, a courtroom drama based on the Supreme Court case, Hamdan v. Rumsfeld. George Clooney and Grant Heslov will produce, with Clooney possibly playing a role as Navy lawyer Charles Swift.
Salim Ahmed Hamdan was a Yemeni driver who worked for Osama Bin Laden. Captured by U.S. forces in Afghanistan, he was sent to Guantanamo Bay and charged with conspiracy to commit terrorism. When he was to be tried for his crimes by a military commission, he filed for a writ of habeas corpus, claiming that such a  commission was illegal. In 2006, in Hamdan v. Rumsfeld, the Supreme Court ruled in favor of Hamdan, stating that the commissions were a violation of the Geneva Conventions and the Uniform Code of Military Justice. The case brought up important questions about the Bush Administration's role in shaping U.S. policy against detainees during its professed War on Terror, and seems like it has good potential for some compelling drama. The film will be partially based on Jonathan Mahler's book, The Challenge: Hamdan v. Rumsefeld and the Fight over Presidential Power.
While it might have been a product of its time, A Few Good Men was still a damn good courtroom drama and it's great to see that Sorkin is getting back into the genre that helped make him one of the hottest writers in Hollywood. However, with President Obama's recent decision to close down Guantanamo Bay, The Challenge may have to work a little bit harder to make its political commentary remain biting and relevant. Nonetheless, I'm definitely looking forward to this film more than Sorkin's upcoming Facebook film.