This Week In DVD: Zack And Miri Make A Porno, Nick And Norah's Infinite Playlist, Madagascar 2, And More
We may receive a commission on purchases made from links.
This Week in DVD is a column that compiles all the latest info regarding new DVD releases, sales, and exclusive deals from stores including Target, Best Buy, Circuit City, and Fry's.Please don't take the commentary on the movies and TV shows too seriously, as they're meant not to be reviews but rather previews that include the general thoughts and ramblings of a twice-committed DVD addict. The categories represent solely the author's intentions towards the DVDs at hand, and are in no way meant to be a reflection on what he thinks other people should rent or buy. So if he ends up putting a movie you like in the "Skip it" section without having seen it, please keep in mind that the time you could spend leaving a spiteful but ultimately futile comment could instead be used for more pleasant things in life. Like buying DVDs.

ZACK AND MIRI MAKE A PORNO
Compared to Apatow-directed/produced relationship comedies like The 40-Year-Old Virgin, Knocked Up and Forgetting Sarah Marshall, you can't exactly say Zack and Miri Make a Porno is breaking new ground with its combination of raunchy R-rated humor with a more sincere, emotional romance at the center of it all. Then again, even if those films didn't exist, it still wouldn't be breaking new ground, since Kevin Smith has been doing this since Chasing Amy. So all those saying Smith is just channeling Apatow can suck it. If anything, Apatow has been channeling Smith; he even admitted as much at last year's Comic-Con, when he labeled Smith as one of his inspirations. And while Zack and Miri may not be the best comedy of the year, it's definitely up there, and is certainly deserving of a purchase.
Blu-ray? Yes.Notable Extras: Full length documentary, deleted and extended scenes, all of the "Money Shots" promo videos, and a blooper reel.
BEST PRICE
Target
Best Buy
Fry's
$16.99
Amazon – $16.99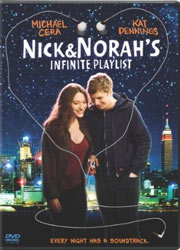 NICK AND NORAH'S INFINITE PLAYLIST
It's hard enough as it is to find any decent romantic comedies, but romantic comedies for the teen crowd? Those are nonexistent. Luckily, Nick and Norah's Infinite Playlist offers a step in the right direction to remedy this. It's not an amazing movie by any means, but it's sweet, funny, has a solid soundtrack, and provides two of the more charming and interesting romantic leads to be found in its genre.
Blu-ray? Yes.Notable Extras: Commentary with director Peter Sollett, actors Michael Cera, Kat Dennings and Ari Graynor, a second commentary with Peter Sollett, authors Rachel Cohn and David Levithan and screenwriter Lorene Scafaria, deleted scenes, outtakes, animated storyboards, a photo gallery, and a digital copy.
BEST PRICE
Target
Best Buy
Fry's
$16.99
Amazon – $16.99
EXCLUSIVE DEAL:What? Free exclusive T-shirt.Where? Best Buy.EXCLUSIVE DEAL:What? Save $5 when you buy Nick & Norah's Infinite Playlist and Across the Universe ($14.99).Where? Best Buy.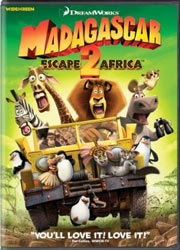 MADAGASCAR: ESCAPE 2 AFRICA(Releases February 6, 2009.)
Although it was nothing special, I can openly admit that I at least moderately enjoyed the first Madagascar. As for the sequel, despite it remaining as comfortably watchable as that movie, I couldn't help but be put off by how blatantly obvious it was that its sole reason for existence was money. It's not like you can watch the movie and think to yourself that the filmmakers were inspired to make a sequel because they had such a great follow-up story to tell. No, each character subplot/conflict introduced here was clearly done so because, well, the characters needed new subplots and conflicts. If you can get past that though, the film makes for decent entertainment. I particularly loved the score by Hans Zimmer, which definitely helped to class things up. (You can check out this song he did with Will.I.Am for a sample of what I'm talking about.)
Blu-ray? Yes.Notable Extras: A filmmaker commentary, featurettes (It's a Family Affair: The Cast of Escape 2 Africa, The Making of Escape 2 Africa, Crash Landing, African Adventure, Jambo Jambo: Swahili Speak), 4 music videos ("Move It, Move It", "Big and Chunky", "She Loves Me", "The Traveling Song Sing Along"), a DWA Jukebox and games.
BEST PRICE
Target
Best Buy
Fry's
$16.99
$19.99
Amazon – $16.99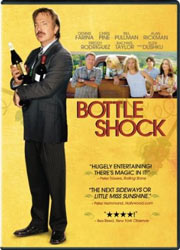 BOTTLE SHOCK
As a devoted Alan Rickman fan, I'm willing to overlook the apparent predictability and constant contrivances of Bottle Shock (which are pointed out repeatedly in the film's somewhat lackluster reviews) in favor of its admitted entertainment value. Even if the film sucks, at least it's an opportunity to see Rickman in another lead role; the dude deserves more of them.
Blu-ray? No.Notable Extras: Commentary by actors Bill Pullman, Chris Pine and Eliza Dushku, director Randall Miller, writers Jody Slavin, Ross Schwartz and Lannette Pabon, and producer J. Todd Harris, 2 featurettes (An Underdog's Journey: The Making of Bottle Shock, Chateau Montelena: One Winery's Search for Excellence), and deleted scenes.
BEST PRICE
Target
Best Buy
Fry's
N/A
$19.99
Amazon – $19.99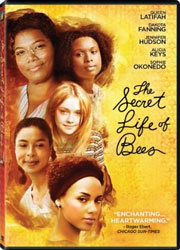 THE SECRET LIFE OF BEES
Right off the bat, I'll admit that I'm clearly not the demographic for this movie. After all, I don't have a vagina. If I did, maybe this sappy, sugary-sweet drama set in the South about a young girl who runs away from her troubled life and finds solace in a loving household might interest me more. But I don't, and it doesn't.
Blu-ray? Yes.Notable Extras: Theatrical and director's cuts of the movie, commentary with writer/director Gina Prince-Bythewood, producers Lauren Shuler Donner and Joe Pichirallo, actors Dakota Fanning And Queen Latifah, a second commentary with writer/director Gina Prince-Bythewood and editor Terilyn Shropshire, 8 deleted scenes, and featurettes (The World Premiere, The Women And Men Of The Secret Life Of Bees, Adaptation: Bringing The Secret Life of Bees To The Big Screen, Inside The Pink House With Sue Monk Kidd).
BEST PRICE
Target
Best Buy
Fry's
$16.99
$19.99
$16.99
Amazon – $16.99
Other noteworthy DVDs available this week...Mystery Science Theater 3000 (Volume XIV) – Days and Clouds – Oliver and Company (20th Anniversary Edition) – Being There (Deluxe Edition) – Yentl (Two-Disc Director's Cut) – Friday the 13th (Uncut Deluxe Edition) – Friday the 13th: Part 2 (Deluxe Edition) – Friday the 13th: Part 3 3-D (Deluxe Edition) – His Name Was Jason: 30 Years of Friday the 13th – Afro Samurai: Resurrection (Director's Cut)

NOTE: Some deals may be in-store only.

Exclusive Retail: The Black List ($9.99)$10 – Monty Python and the Holy Grail (Extraordinarily Deluxe Three-Disc Edition)$4.75 – Saw, The Legend of Bagger Vance, Juice, and more...

$9.99 – 300 (2-Disc Special Edition), Spider-Man 3 (2-Disc Special Edition), Butch Cassidy and the Sundance Kid (Ultimate Collector's Edition), Dirty Harry (2-Disc Special Edition), The Shawshank Redemption (2-Disc Special Edition), The Shining (2-Disc Special Edition), Taxi Driver (Collector's Edition), Goodfellas (2-Disc Special Edition), The Boondock Saints (Unrated Special Edition), Fantastic 4 (Extended Edition), Blade Runner (2-Disc Special Edition), Ghost Rider (2-Disc Special Edition)$4.99 – Paris Je T'aime, Rocky Balboa, Love Actually, Pride and Prejudice, Priceless, The Break-Up, Tin Cup, Save the Last Dance