SXSW Movie Trailer: Breaking Upwards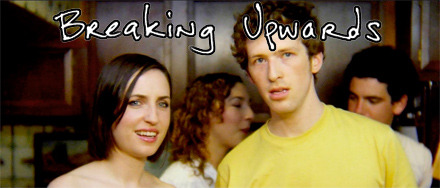 The reason why I like the SXSW Film Festival is because it contains a lot of smaller films, movies that speak to people of my generation, and the even more technologically hip generation after mine. SXSW is very much what I imagine Sundance use to be 20 years ago, but if it were set in modern times.
In my review for 500 Days of Summer, I spoke out about the need for a better term for the indie romantic dramedy. It's been a couple weeks and I still can't come up with anything worth noting. But it definitely seems clear to me that a new term is needed. Films like 500 Days of Summer, Garden State or Breaking Upwards defy the classification of the normal "romantic comedy". Not only because they try to do something above and beyond the normal cliche story beats, but because they speak to an entirely different crowd.
Breaking Upwards will play in competition at 2008 SXSW Film Festival and BFI Times London Film Festival. You can watch the trailer for the film after the jump. In an attempt to promote the movie on the interwebs, director Daryl Wein even made a viral rap video featuring /Film favorite and star of Breaking Upwards, Olivia Thirlby (Juno, The Wackness). That's also included after the jump.Update: Apparently it was Wein's first film which premiered at BFI.
The movie follows "a young New York couple who, after four years together, have grown stifled. Desperate to escape their ennui, but fearful of life apart, they decide to intricately strategize their own break up.The film blurs the line between documentary and narrative by casting real life couple (and filmmakers) Daryl Wein and Zoe Lister-Jones as themselves. An uncensored look at young love, lust, and the pangs of codependency, 'Breaking Upwards' follows its characters as they navigate each others' emotions across the city they love. It begs the question: is it ever possible to grow apart together?"