Slumdog Millionaire Star Joins The Last Airbender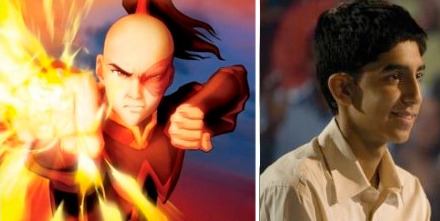 M. Night Shyamalan is making some last minute casting changes on his live-action big screen adaptation of The Last Airbender, and the changes apparently have nothing to do with the intense criticism over the  choice of hiring a mostly non-Asian cast (you didn't expect him to right those wrong, did you?).Slumdog Millionaire star Dev Patel will be replacing Jesse McCartney, who supposedly had schedule conflicts due to his music career. Night tells Variety that McCartney couldn't make the martial arts boot camp that was set up for the cast of the film, and Patel was available to take his place.
Patel will play the Fire Nation's evil prince Zuko. Exiled from the Fire Nation by his father, Zuko is sent to capture the Avatar in order to restore his honor and right to the throne. The film, which is the planned first in a trilogy, tells the story of Aang, the successor to a long line of Avatars who must put aside his irresponsible ways and stop the Fire Nation from enslaving the Water, Earth and Air nations. The Last Airbender is being targeted for a July 2nd 2010 release.