Tom Tykwer Adapting Cloud Atlas For The Wachowskis; Is Natalie Portman Involved?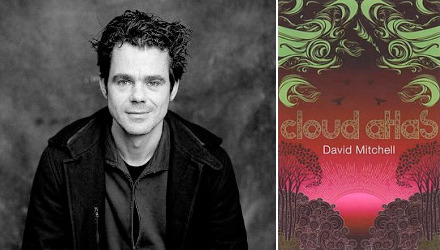 FirstShowing has word that The International director Tom Tykwer is adapting the David Mitchell novel titled Cloud Atlas for The Wachowski Brothers. Written in 2004, the novel went on to win the British Book Awards Literary Fiction Award and the Richard & Judy Book of the Year award.The book is comprised of six seperate but loosely connected stories that take us from the remote South Pacific in the nineteenth century to the far future after a nuclear apocalypse. Each tale is told from the point of view from the the main character in the next. It's unclear if Tykwer is focusing on one, a couple or all of the stories. I cant imagine that a film adaptation would feature all six stories as the narrative would become too episodic. And each story is a vastly different genre than the next, spanning post-apocalyptic sci-fi to modern comedy. The author has said that the book's theme is predacity — individuals prey on individuals, groups on groups, nations on nations.
Funny thing, I received an email tip a few months ago that claimed that Natalie Portman was somehow involved in a big screen adaptation of Cloud Atlas, but I wrote it off as unsubstantiated false info. But now that Alex has uncovered that Tykwer is adapting the novel for The Wachowskis, I've been doing some research and there seems to be a few connections.
First of all, Tykwer shot the 10-minute short film, True, with Natalie Portman and Melchior Beslon for the 2006 short film anthology film Paris, je t'aime. The Wachowski Brothers are big fans of Tykwer (they even used a song of his in The Matrix Revolutions soundtrack). The brothers decided to cast Portman for V For Vendetta based on his recommendation/the 10-minute short film. And Portman even references the novel Cloud Atlas as one of the books she and the cast and crew of V were reading in a March 2006 interview with CHUD. Here is an excerpt:
"There was also a book I read, which we all ended up reading, called Cloud Atlas, that was pretty formative to my ideas about violence because it has this story of the Moriori tribe in it. They were this non- violent New Zealand tribe that thought that if you committed violent acts your soul will be tainted, and you would become an outcast in their society. So the Europeans came and now they no longer exist [laughs]. The problem with non-violence is if you have violent neighbors, you cease to exist which is sort of like violence to yourself. That helped me to understand violence, because that self-defensive violence is one that I can understand as a human being, but that can be extended to such a large thing. If you think that you would defend your family from a threat, or you're a president, and your country's your family, what if the threat is perceived rather than real? All of these things posed questions that you could talk about for a lifetime, and never really come to solid conclusions."
So is Portman involved as a producer or star? This is all just speculation at this point. Tykwer has a great visual style. I'm a big fan of his earlier work like Run Lola Run, The Princess and the Warrior, and Perfume: The Story of a Murderer, but I've heard The International is a less interesting Bourne-lite. And while there is no indication that Tykwer would direct the project, it seems very unlikely that The Wachowski Brothers would have asked one of their favorite directors to do some some for-hire screenwriting work.