Bruce McDonald Wants You To Fund His Film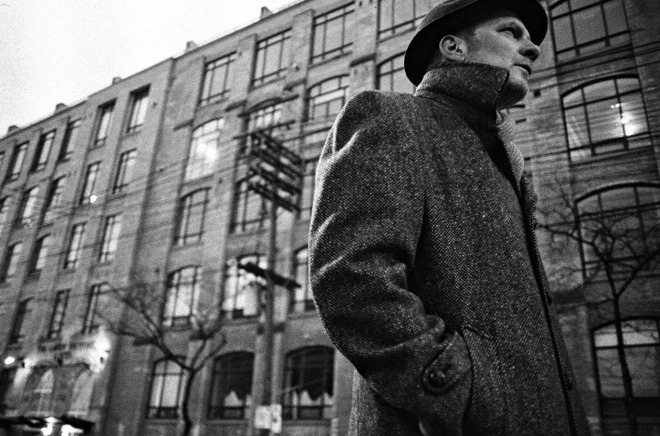 I've just been tempted by something very exciting over at Twitch.
For a thousand dollars, one can become be an Executive Producer on Bruce McDonald's upcoming musical romance, A Love Supreme. Inspired by Chris Marker's La Jetee, this won't be "filmed" in the traditional sense, but instead be constructed from a series of around 20,000 still photographs. The film will be set in Toronto's Little Italy and is pitched as being "about how a boy meets a girl through Jazz". It is based upon a novel by Kent Nussey that has been compared to Camus, Beckett and Sartre. The necessary funds to complete filming seem to amount to no more than $20,000 dollars – Canadian, I assume?
Not rushing to get your checkbook? Then let me try and twist your arm with some video clips of Ellen Page and zombie invasions, as well as a short test piece of the film itself...
We'll start with the trailers for McDonald's latest two completed movies – fleshrot 'n' shock jock thriller Pontypool, and Ms. Page starring in the psychological mystery The Tracy Fragments.
[flv:http://bitcast-a.bitgravity.com/slashfilm/trailers/pontypool.flv 460 258]
[flv:http://bitcast-a.bitgravity.com/slashfilm/trailers/traceyfragments.flv 460 258]
Not enough there to win you over? Then I'll take to the stand in person.
I've been a great admirer of McDonald's since the early 90s when I caught his films Roadkill and Highway 61 on Channel 4, here in the UK. They both had Don McKellar scripts, they both starred the winning Valerie Buhagiar, they both showed a love of music and of roads and driving, they both had a pretty hip swing to them... but in many other respects, they were pretty darned different. And film to film, year in, year out, McDonald has been making movies that are, each one of them, an interesting departure from the previous.
I think Hardcore Logo is probably the only music mockumentary to stand up tall in the face of Spinal Tap, and it does so by being so very, very different (I like A Mighty Wind okay, it just cowers before the Tap). It was one of the few films to be released on Quentin Tarantino's sadly short lived Rolling Thunder DVD label and might well be McDonald's most widely seen picture.
Perhaps the clincher, the thing to separate you from your money finally, will be a test sequence from the film, one of a few available on the official Facebook group of A Love Supreme. You could always join this group to spread the word, even if your wallet is as light as most folks'.
Opportunities to support truly independent film are around every corner, if you go looking for them (seriously, I could do with a few thousand Canadian myself) but the chance to get involved with a filmmaker like Bruce McDonald and help his films get made is considerably less common.