Box Office Tracking: Taken Could Top $20M; Mall Cop Set To Pass $80M Domestic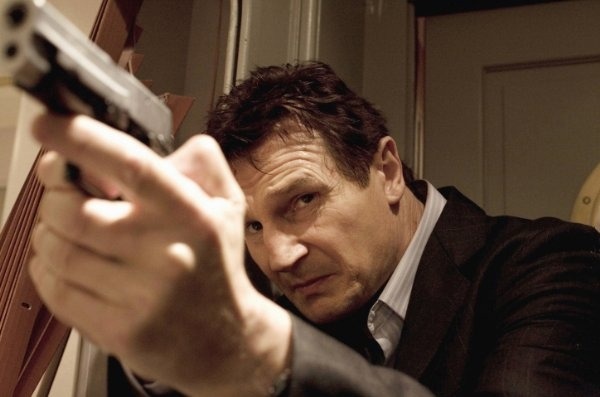 In 2006, Magnolia released the French sci-fi action thriller District B13, written and produced by Luc Besson and directed by his longtime collaborator Pierre Morel. The US domestic engagements grossed an estimated $1.2M, but previously, the movie delivered a solid $6.9M in France as Banlieue 13 in 2004.
The movie features some truly unique action sequences, and failed to connect with American audiences because it is a classic "tweener" – too arty for mainstream theatres while being too action-driven for the arthouse crowd. (Put this one in your Netflix cue.) District B13 is the kind of movie that makes you say, "What are those guys going to do next?"
The answer is Taken (Fox), debuting in wide release on Friday. Co-written by Besson and directed by Morel, the movie stars Oscar nominee Liam Neeson (Kinsey, Batman Begins) as a retired spy who tries to save his kidnapped daughter. The movie is scoring both with critics (58% Fresh on Rotten Tomatoes) and with movie-goers (nice numbers in pre-release industry tracking). Taken will likely win this Super Bowl 3-day with a possible $21M.
Kevin James' Segway seems pretty unstoppable, and the former King of Queens star is one-man publicity machine. James is making the rounds here in Tampa, pushing Paul Blart: Mall Cop (Sony) with all of the assembled TV and radio stations. (I am covering the Super Bowl for 710 ESPN Radio in Los Angeles.) Made for just $26M, this Adam Sandler produced comedy seems headed for a possible second-place finish with $13.2M and a new domestic cume of about $82M. The world better start getting ready for Paul Blart: The Sequel.
The Uninvited (Dreamworks/Paramount) is the latest in the first quarter horror logjam, following The Unborn ($39.6M cume), My Bloody Valentine 3-D ($39M cume) and Underworld: Rise of the Lycans ($23.4M cume) and preceding Warner Bros' Friday the 13th (February 13). A remake of the 2003 South Korean supernatural thriller (released in the US as A Tale of Two Sisters), The Uninvited should have a respectable opening. As usual, tracking is tough to interpret when it comes to the horror genre, but this one could reach $12.5M.
Clint Eastwood will likely spend another weekend in the top five with Gran Torino (Warner Bros). The movie is now his all-time biggest grossing title topping his previous-best In the Line of Fire, and it may drop a mere 36% from last weekend to $10.4M. Meanwhile the aforementioned Underworld: Rise of the Lycans, the Kate Beckinsale-less Underworld prequel, will suffer a steeper drop. The vampires vs. werewolves origins story may drop about 50% to $10.35M or so.
The other wide release is the terribly-reviewed Renee Zellweger romantic comedy New in Town (Lionsgate). As of Wednesday night, the movie is at just 11% Fresh on Rotten Tomatoes, and the most entertaining description is from Slant Magazine's Nick Schrager who says it's "like the odious stepchild of Fargo." Counter-programming the Super Bowl with a female driven rom-com seems like a good idea, but $6.5M seems to be the ceiling for this one.
FINAL PREDICTIONS FOR THE WEEKEND OF JANUARY 30
1. NEW – Taken (Fox) – $21M
2. Paul Blart: Mall Cop (Sony) – $13.2M
3. NEW – The Uninvited (Paramount) – $12.5M
4. Gran Torino (Warner Bros) – $10.4M
5. Underworld: Rise of the Lycans (Sony) – $10.35M
6. Slumdog Millionaire (Fox Searchlight) – $9.5M
7. Hotel For Dogs (Dreamworks/Paramount) – $8.5M
8. NEW – New in Town (Lionsgate) – $6.5M
9. The Curious Case of Benjamin Button (Paramount) – $5.9M
10. My Bloody Valentine 3-D (Lionsgate) – $5.7M
11. Bride Wars (Fox) – $4.25M
12. Inkheart (Warner Bros) – $4.2M