Michael Sheen As Brian Clough In The Trailer For The Damned United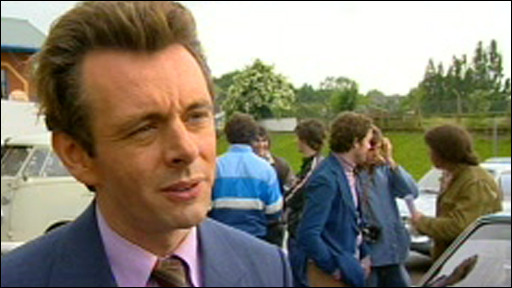 Michael Sheen is the nearest thing we here in boring old reality have to Scott Bakula's character in Quantum Leap. Just like Dr. Sam Beckett, Sheen somehow leaps, film after film, into the body of a historical figure (sometimes from very recent history) and guides them through dramatically amusing moral dilemmas scenarios.
He's been Tony Blair twice, with a third outing on the cards; Carry On star Kenneth Williams in Fantabulosa!; art critic and journalist Robbie Ross in Wilde; playboy TV presenter David Frost in Frost/Nixon and, in UK cinemas from late March, Brian Clough in The Damned United.
Today, the first trailer has been unveiled and already Clough looks a little bit more like Sheen in my imagination. He does that – and don't we love him for it?
Frequent Sheen collaborator Peter Morgan has scripted the film, adapting David Peace's novel. The events portrayed are rooted in reality, but the classification of Peace's work suggests to me that they have been highly fictionalised. Tom Hooper directs, having done a really good job in realizing Morgan's Longford screenplay a couple of years back.
Brian Clough, if you don't know, was a rather outspoken football manager here in the UK (for football, read soccer).  One of his appointments was as the manager of Leeds United, which lasted only an uncommonly brief 44 days, and it's this tumultuous episode that forms the narrative of the movie. I'm told that Clough managed to alienate just about everybody he worked with in that time, from the players to the team's directors. I don't remember any details, but he must have made one hell of an impact in general because there's only two more club-level football managers I can name (Graham Taylor and Jose Mourinho), and Clough is typically the first of those to come to mind.
The following trailer surfaced at Empire.
I'm expecting enough drama and laughs from this one that it might even play fairly well in The States. Then again, that might be too much like selling ice to Newcastle (though not, er, coal to the Eskimos, because they'd probably find it quite useful). I think the kind of football in which you mainly touch the ball with your hands is more likely to sell a film over there.
I'm still not sure if I should I have included Jeremy Dyson in The League of Gentlemen's Apocalypse on that list at the top of the post. Probably. League experts chime in below.