Box Office: Underworld Winning The Weekend With $19.75M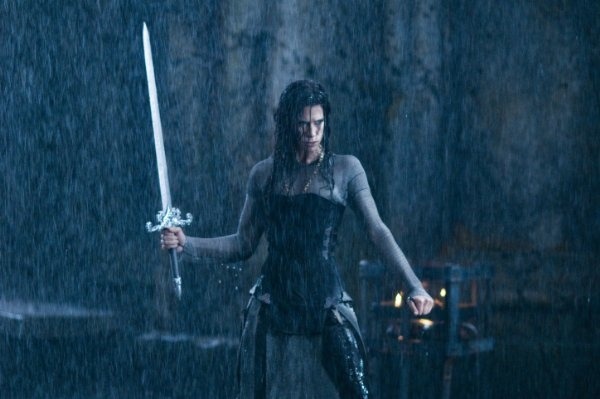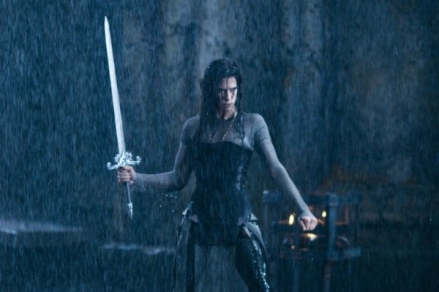 As the dust settles from the Academy Award nominations and Hollywood prepares for Sunday night's Screen Actors Guild Awards, two new wide releases have hit theatres with one, a slight disappointment, and the other, a total misfire.
Underworld: Rise of the Lycans (Sony), a prequel to the two previous Underworld movies, will win the weekend after grabbing an estimated $7.6M, which should translate to an opening 3-day of about $19.75M. The movie has less sizzle than expected and the missing ingredient seems to be actress Kate Beckinsale clad in black leather.
In 2003, Underworld, directed by Len Wiseman, grabbed $21.75M on opening weekend en route to $52M domestic. The film featured the sexy Beckinsale and her then-longtime-boyfriend Michael Sheen. While making the movie, Kate and director Wiseman fell in love. They were married in 2004 as Sheen and Beckinsale went their separate ways.
Then came Wiseman's Underworld: Evolution in 2006 starring his now-wife Beckinsale, returning as the character of Selene. The franchise grew bigger with a $26.85M opening 3-day and $62M in the US. Sheen's Lucien character appeared in the sequel, but only in flashbacks.
Rise of the Lycans is about the origin of the "vampires versus werewolves" feud set in the dark ages starring Sheen as young werewolf and British actor Bill Nighy (Pirates of the Caribbean) as Viktor, the leader of the vampire race. In this film directed by Patrick Tatopolous, Beckinsale is credited, but appears only briefly. It's hard to say where this franchise is headed, but I have to assume that if Mr. and Mrs. Wiseman were to commit, there would be another Underworld movie, probably sans Sheen (who is plenty busy with serious roles like David Frost in Frost/Nixon and Tony Blair in the forthcoming Peter Morgan-penned A Special Relationship).
The other major studio release is Inkheart, which is the product of New Line (absorbed last year by Warner Bros). Based on a novel by Cornelia Funke and starring Brendan Fraser, Paul Bettany (The Da Vinci Code) and Academy Award winner Helen Mirren, this Narnia-wannabe never really had much of a chance. With tepid reviews (36% Fresh on Rotten Tomatoes) and very low awareness according to pre-release industry tracking, Inkheart only mustered about $2.1M on its first day of US release, and the film will stumble to a possible $7.55M for the weekend, finishing a disappointing #8.
The Adam Sandler-produced comedy Paul Blart: Mall Cop (Sony) had a very good second Friday with about $5.5M, and the big, dumb, inoffensive comedy is headed for an excellent $18M for a new 10-day cume of $61.4M. After success as a supporting star in movies like Hitch ($179.5M cume) and I Now Pronounce You Chuck and Larry ($120M cume), it appears that James can open a movie on his own. Mall Cop will be down only 43% from last Friday-thru-Sunday (and that was part of a 4-day weekend, which can often lead to a sharper drop).
Despite being completely shut out by Academy Award voters, Clint Eastwood's Gran Torino (Warner Bros) continues to perform like a champ. The growling Walt Kowalski (who ever thought, "Get off my lawn!" could become a movie catch-phrase) is headed for a $4.2M Friday and that will mean a likely $15.53M 3-day, down only 29% from the MLK 3-day. Sometime on Sunday, Gran Torino will pass Space Cowboys ($90.4M cume) to become Eastwood's fourth biggest-grossing film, and by mid-week, it will become his all-time #1 grossing movie, surpassing In the Line of Fire ($102.3M cume).
Holdovers My Bloody Valentine 3-D (Lionsgate) and Notorious (Fox Searchlight) will probably finish in the top five for the day, but they will tail off through the weekend, making room for some dogs.
The likely #4 finisher for the frame will be live action dog movie Hotel For Dogs (Dreamworks/Paramount), which fetched $2.4M to start its second weekend, and it will ride huge matinees to a possible $9.84M. That will give the modestly-budgeted family-friendly pic a new cume of $34.43M.
Meanwhile, 10 Academy Award nominations have propelled another dog – Slumdog Millionaire – to a wildly successful expansion. Widening to 1,411 playdates, Fox Searchlight has perfectly calibrated the platform release and coaxed a strong $2.6M on Friday (#6 for the day), and it will ride sensational reviews and terrific word-of-mouth to a $9.63M 3-day. It's hard to believe that after being developed by the now-defunct Warner Independent Pictures, this $14M indie almost wound up going straight-to-video. Now Danny Boyle's life-affirming masterpiece will have grossed almost $55M by Monday, and Slumdog will be selling a lot more tickets between now and Oscar day.
The most-nominated film of the year got a boost as well as The Curious Case of Benjamin Button (Paramount) managed another $1.6M to start the 3-day, which should translate to a top ten finish with a $6.75M weekend take. With nominations for Best Picture, Best Actor: Brad Pitt, Best Supporting Actress: Taraji P. Henson, Best Director: David Fincher, Best Adapted Screenplay: Eric Roth and Best Original Score: Alexandre Desplat among others, Ben Button will have a new domestic gross of $110M.
Three other Oscar nominated films got their post-nomination expansions. Revolutionary Road (Dreamworks/Paramount) was crushed by Thursday's Oscar announcement, but still managed to do some decent business. Dreamworks was clearly banking on a nomination for Best Actress for Kate Winslet and an outside shot at a Best Picture nom, but the Sam Mendes-directed movie settled for nods for Best Supporting Actor: Michael Shannon, Best Art Direction and Best Costume Design: Albert Wolsky. Rolling out on 1,058 screens, the dark, domestic drama sold $1.53M in tickets on Friday and that could mean a respectable $5.31M 3-day for a $5K Per Theatre Average.
Mickey Rourke's career-resurrecting performance in The Wrestler (Fox Searchlight) is targeting a possible $7,000 PTA for the weekend. With a more limited 566 playdates, the Darren Aronofsky-directed gem corralled $1.1M to start the frame, and it will likely reach $4M by Monday. The picture could get another boost Sunday night if Rourke manages to win the Screen Actors Guild Award for Best Actor.
Finally, Best Picture nominee Frost/Nixon (Universal) has failed to ignite much interest despite 5 Academy Award nominations. Co-starring the aforementioned Michael Sheen, the Ron Howard-directed film has expanded to 1,100 locations, but it still managed only $900,000 in tickets sold on Friday. The spectacularly-reviewed movie will crawl to a disappointing $3.24M for the weekend and a new cume of just $12.22M.
EXCLUSIVE STEVE MASON EARLY FRIDAY ESTIMATES
1. NEW – Underworld: Rise of the Lycans (Sony) – $7.6M, $2,583 PTA, $7.6M cume
2. Paul Blart: Mall Cop (Sony) – $5.5M, $1,749 PTA, $48.8M cume
3. Gran Torino (Warner Bros) – $4.2M, $1,379, $85.77M cume
4. My Bloody Valentine 3-D (Lionsgate) – $2.9M, $1,144 PTA, $30.57M cume
5. Notorious (Fox Searchlight) – $2.8M, $1,706 PTA, $28.89M cume
6. Slumdog Millionaire (Fox Searchlight) – $2.6M, $1,843 PTA, $47.96M cume
7. Hotel For Dogs (Dreamworks/Paramount) – $2.4M, $734 PTA, $27M cume
8. NEW – Inkheart (Warner Bros) – $2.1M, $791 PTA, $2.1M cume
9. Bride Wars (Fox) – $1.9M, $725 PTA, $43.6M cume
10. The Curious Case of Benjamin Button (Paramount) – $1.6M, $707 PTA, $106.64M cume
11. Revolutionary Road (Dreamworks/Paramount) – $1.53M, $1,446 PTA, $8.12M
12. Defiance (Paramount Vantage) – $1.51M, $1,446 PTA, $8.12M cume
13. The Unborn (Rogue) – $1.3M, $617 PTA, $36.17M cume
14. The Wrestler (Fox Searchlight) – $1.1M, $1,943 PTA, $6.91M cume
15. Frost/Nixon (Universal) – $900,000, $819 PTA, $9.88M cume
EXCLUSIVE STEVE MASON EARLY 3-DAY ESTIMATES
1. NEW – Underworld: Rise of the Lycans (Sony) – $19.75M, $6,713 PTA, $19.75M cume
2. Paul Blart: Mall Cop (Sony) – $18.1M, $5,757 PTA, $61.4M cume
3. Gran Torino (Warner Bros) – $15.53M, $5,100, $97.1M cume
4. Hotel For Dogs (Dreamworks/Paramount) – $9.84M, $3,008 PTA, $34.43M cume
5. Slumdog Millionaire (Fox Searchlight) – $9.36M, $6,634 PTA, $57.25M cume
6. My Bloody Valentine 3-D (Lionsgate) – $8.7M, $3,433 PTA, $36.37M cume
7. Notorious (Fox Searchlight) – $8.5M, $5,180 PTA, $34.59M cume
8. NEW – Inkheart (Warner Bros) – $7.55M, $2,844 PTA, $7.55M cume
9. Bride Wars (Fox) – $6.75M, $2,575 PTA, $48.45M cume
10. The Curious Case of Benjamin Button (Paramount) – $5.76M, $2,545 PTA, $110.8M cume
11. Revolutionary Road (Dreamworks/Paramount) – $5.31M, $5,019 PTA, $11.9M
12. Defiance (Paramount Vantage) – $5.1M, $2,844 PTA, $18M cume
13. The Wrestler (Fox Searchlight) – $3.96M, $6,996 PTA, $9.77M cume
14. The Unborn (Rogue) – $4.29M, $2,036 PTA, $39.16M cume
15. Frost/Nixon (Universal) – $3.24M, $2,948 PTA, $12.22M cume