What's Really Going On With Clive Barker, Guillermo Del Toro And Daniel Simpson's Born?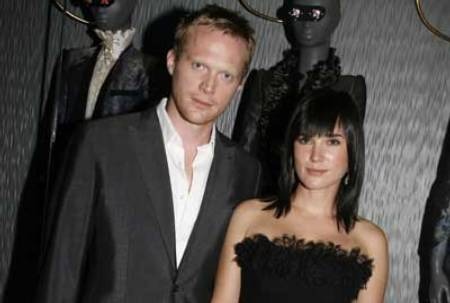 The proposed horror film Born has been described as a fantasy film and as a psychological thriller.  The plot reportedly revolves around a married couple, the husband of which is a stop-motion animator, settling down in a quaint English town and then getting terrorised by his claymation creations.
When I first heard about the film it was in a Variety piece that named an amazing array of talent attached as writers, producers and stars.  Apparently, Daniel Simpson was attached to direct from a screenplay he had written with Paul Kaye, Paul Bettany and Jennifer Connelly were set to star, the Chiodo brothers were to supply stop-motion effects, and Guillermo Del Toro and Cliver Barker were among the producers. Surely the poster for that film alone could secure a multi-million dollar budget? Well... I've put the poster down at the bottom of the post and you can judge how much it really would cost (in Chewitts and milk bottle tops if you think dollars inappropriate) for yourself.
The Born news kept coming, and progress wasn't smooth. Fangoria reported that, actually, none of Del Toro, Bettany or Connelly were involved (a Fangoria redesign has lost the page, but a Bettany fansite retains the story). But that wasn't the end of the ups and downs.
Bloody Disgusting called the production and got official word that while Connelly was definitely off, Bettany was definitely on – and Del Toro was not mentioned. The prediction then, in December 2007, that the film was to shoot in February 2008.
Then... radio silence.
To bring us up to date, Fangoria have had cause to mention Born again this week. This comes about as it seems that Simpson has completed another film, Spiderhole. Without any of the star power of Born, it doesn't yet seem likely that the film is going to get much of release, though Simpson reports it has been testing very well, and offers a plot summary:
"Spiderhole is about four young art-school students who decide to squat at a large, boarded-up empty London house. They break in at night and change the locks before drinking, having sex, etcetera. In the morning, feeling sick—but more than just hung over—they go to leave, only to find that the doors and windows have been sealed with metal and that there is no escape. They realize that they've been drugged, and that whoever did it must be with them inside the vast, derelict and pitch-black building."
He does go on to tell them more, but it's hardly packed with fault-line troubling surprises. The content in the article that was most interesting to me was a little tidbit about Born:
"Born is ready to go, and we're awaiting news from HandMade Films as to whether they will fund it. It's set to shoot in New Zealand for budget reasons this spring, and casting will be pending on this decision. If Handmade passes, the option for the film will be available March 1, for anyone interested."
While the 80s incarnation of Handmade were responsible for a whole bucketful of quality films – Time Bandits, Withnail & I and Mona Lisa to name but three – the rebooted label has yet to do anything convincing at all. I wouldn't be surprised if they're really feeling the recession so I'm not hopeful for Simpson and his little clay creatures. If you fancy the sound of Born, perhaps your best bet will be to line up on the first of March, checkbook in hand.
Bettany and... er... somebody else I won't name because she's not on the credits, do appear together in the really very good Inkheart, out today across the US.