Jericho May Return As A Theatrical Movie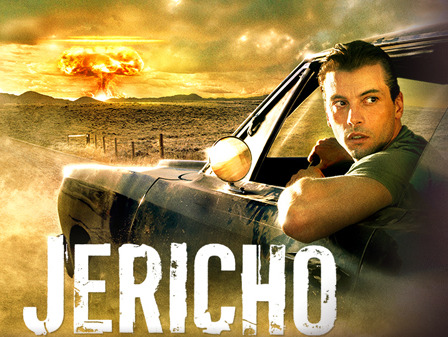 Like the corpse of some sort of decomposing, shambling zombie, it looks like twice-canceled television series Jericho just refuses to stay dead. According to a recent iF magazine interview with series' executive producer and director Jon Turtletaub, Turtletaub is in the process of developing a movie based on the TV series:
We're developing a feature for JERICHO...It would not require you to have seen the TV show, but it gets into life after an event like this on a national scale. It would be the bigger, full on American version of what's going on beyond the town in Jericho.
Turtletaub also claims that the TV cast would return (you mean Skeet Ulrich is available???) and, regarding the budget, says that "Anything would be a huge budget compared to what we were dealing with...If we had $40 million dollars to make a movie with, that's 20 times more than we did before." That budget amount seems a bit high for a movie based on a twice-failed TV show, but millions of people have purchased the DVD and still watch reruns on CW, so maybe it's within striking distance (especially if they want film a post-apocalyptic scenario, which are occasionally costly affairs).
Jericho sought to answer the question posed by countless post-apocalyptic/political thriller films: What happens after the nuclear bombs go off? The story centered around Jake Green (Ulrich), who becomes the leader of a Kansas town named Jericho, after nuclear attacks on 23 major cities have ravaged the United States. Jericho originally began airing on CBS in September 2006 and was canceled after one season due to poor ratings. However, enormous fan outcry helped to bring the show back for one short, seven-episode season, but CBS swiftly brought down the axe again [Random side note: Our film podcast colleague Myles McNutt's writings on the Save Jericho campaign helped win him win a blogging award in 2007]
As a general proposition, the development of these films based on TV shows is very heartening for me. With movies like Arrested Development hopefully on the way, and three of the Futurama made-for-DVD movies already in the can, these labors of love demonstrate the best of what Web 2.0 combined with grassroots enthusiast press can produce. They also prove that Nielsen ratings need not be the be-all end-all of a beloved television show. At least, not if enough people complain about it.
(via Filmschoolrejects)
Discuss: Are you a Jericho fan? Would you be excited for a Jericho film?