Download These NOW: iTunes Offering 10 Free Sundance Short Films Until January 25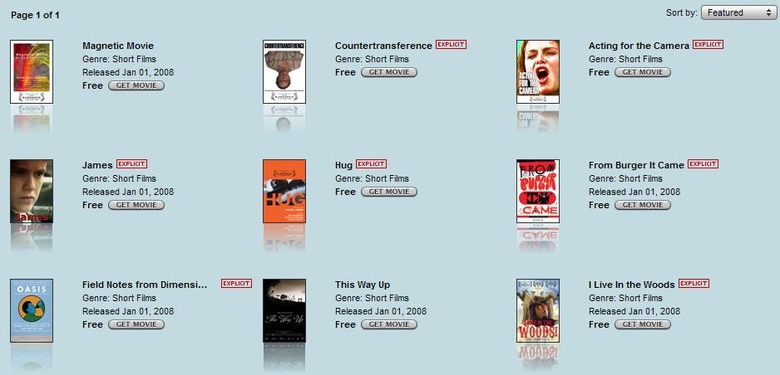 When I was younger, I recall that during Oscar night, I used to watch the Best Short Film Oscar nominations on television with some level of frustration and confusion. What were these films that I'd never heard of? And how could a layperson like me ever hope to see them? I'm one of the few people I know that have actually gone to watch short films in a theater (Coolidge Corner, Boston). I'm a fan of the format, which, when executed well, always leaves the audience wanting more.
Fortunately, with the growth of broadband technology, all kinds of short films have started becoming available for download for free or for a nominal price. Ninety-six short films were selected to be at Sundance this year and, starting right now, 10 of them are available for download on iTunes for free! Hit the jump for the download link and a plot description of each film:
To get the films, all you need to do is go to http://www.itunes.com/sundance (you must have iTunes already installed). For some reason, I only have access to 9 of the films right now, but presumably, with the program entitled "10/10," they'll make the last one available shortly [Update: The 10th film, Instead of Abracadabra can be found by clicking here]. Make sure you get them soon – the films will only be available until January 25th. Here are the film titles and plot descriptions:
Acting for the Camera —An acting class. Today's scene: the orgasm from 'When Harry Met Sally.'Countertransference —A comedy about an awkward woman with assertiveness problems who seeks the questionable help of a therapist.HUG—Drew is a musician with a contract ready to sign. When Asa, his friend and manager, realizes Drew is off his meds the across-town drive to sign the contract becomes significantly more complicated.Field Notes From Dimension X: Oasis —Captain Fred T. Rogard muses in isolation on planet Oasis.From Burger It Came —An animated film that recounts early 1980s-era Cold War fears of a young boy in middle America. Using a variety of techniques, the visual narrative is colorfully assembled over semi-documentary audio conversations between a grown adult recounting his fears and his mother's memory of the time and her own concerns.I Live In The Woods —A Woodsman's fast-paced journey, fueled by happiness, slaughter, and a confrontation with America's God.Instead of Abracadabra—Tomas is a little bit too old to still be living with his parents, but his dream of becoming a magician leaves him with no other option.James—A young man grapples with the impulses and thoughts about being gay.Magnetic Movie—Natural magnetic fields are revealed as chaotic ever-changing geometries, as scientists from NASA's space sciences laboratory excitedly describe their discoveries.This Way Up—Laying the dead to rest has never been so much trouble.Discuss: What did you think of these films? Leave your reviews below!