500 Days Of Summer Video Clips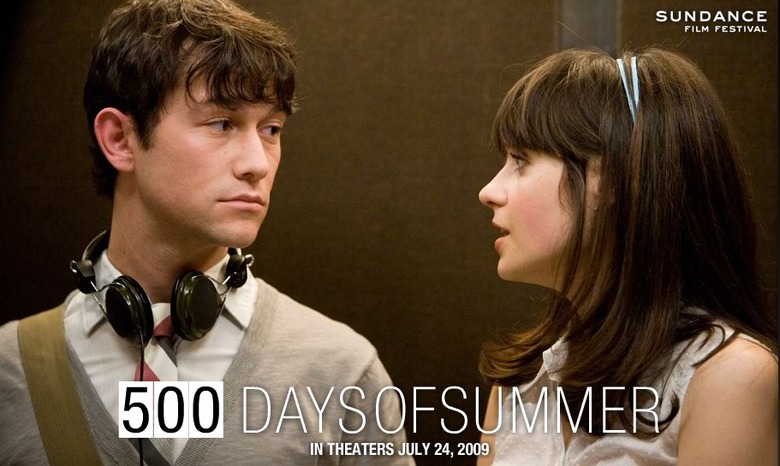 On my adventures today, I was also able to secure two video clips from Mark Webb's 500 Days of Summer.
In the first clip, Tom (Joseph Gordon-Levitt) talks about how his failure in architectural design lead to a job writing greeting cards and we learn Summer's (Zooey Deschanel) shocking college nickname. And the next clip features a conversation where Summer compares her relationship with Tom to Sid and Nancy.
A FirstShowing spy who saw an early test screening called the film the best movie he's seen over the last year. That's pretty high praise. 500 Days of Summer is one of my most anticipated films of this year's Sundance film festival. Fox Searchlight is distributing the film, and it seems like any film that mini-major touches (most recently Slumdog Millionaire and The Wrestler) turns to gold. I'm screening the film on Sunday, so check back for my take. But for now, you can watch the two video clips after the jump.
Before you watch the clips, you might want to know what the film is about. The movie's tagline is "Boy meets girl. Boy falls in love. Girl doesn't." The official plot synopsis follows: "This post modern love story is never what we expect it to be — it's thorny yet exhilarating, funny and sad, a twisted journey of highs and lows that doesn't quite go where we think it will. When Tom, a hapless greeting card copywriter and hopeless romantic, is blindsided after his girlfriend Summer dumps him, he shifts back and forth through various periods of their 500 days "together" to try to figure out where things went wrong. His reflections ultimately lead him to finally rediscover his true passions in life."
[flv:http://bitcast-a.bitgravity.com/slashfilm/trailers/500days2.flv 470 194]
[flv:http://bitcast-a.bitgravity.com/slashfilm/trailers/500days1.flv 470 194]
500 Days of Summer is scheduled to hit theaters on July 24th 2009.