NSFW: The Informers UNRATED Movie Trailer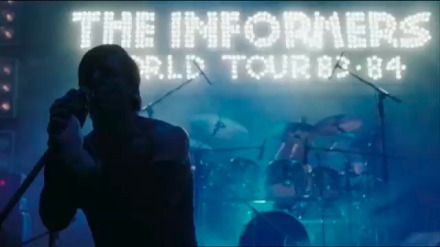 Senator Entertainment has released an unrated uncensored Totally NSFW red band movie trailer for The Informers. Based on the novel by author Bret Easton Ellis (American Psycho, Rules Of Attraction). Sundance director Geoffrey Gilmore admits that the film's drugs and sex filled story might be too much for some people. "If you want to take a shot at it, it's a full target," Gilmore admitted. Senator Entertainment's Marco Weber says that "it will be polarizing, it isn't for everyone." The film is already getting a 9.6 on IMDb from some early test screenings.  I've heard that Amber Heard is naked throughout the entire movie, and the trailer you are about to watch after the jump is only the tip of the iceberg. Leave your thoughts in the comments.
[flv:http://bitcast-a.bitgravity.com/slashfilm/trailers/theinformersred2.flv 470 264]
Bret Easton Ellis ("Less Than Zero" and "American Psycho") adapts his own acclaimed novel for the screen, returning to the Los Angeles of the early 1980's with a multi-strand narrative that deftly balances a vast array of characters who represent both the top of the heap (a Hollywood dream merchant, a dissolute rock star, an aging newscaster) and the bottom (a voyeuristic doorman, an amoral ex-con). Connecting all his intertwining strands are the quintessential Ellis protagonists—a group of beautiful, blonde young men and women who sleep all day and party all night, doing drugs—and one another—with abandon, never realizing that they are dancing on the edge of a volcano. Filmed with uncommon glamour and grit by acclaimed Australian director Gregor Jordan ("Ned Kelly," "Buffalo Soldiers"), THE INFORMERS is an alternately blistering and chilling portrait of hedonism run amuck. The film stars Billy Bob Thornton, Kim Basinger, Mickey Rourke, Winona Ryder, Jon Foster and Amber Heard.
The Informers hits theaters starting on April 10th 2009.