Samuel L. Jackson May Not Be Nick Fury?!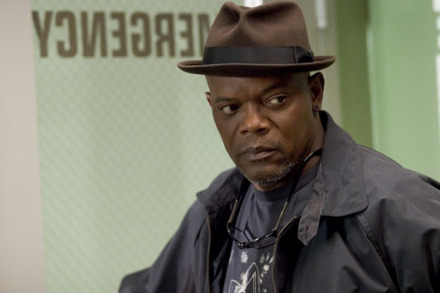 These are troubling times for America—unemployment is on the rise, and entire industries face their end—but one thing we geeks have had to look forward to in the next few years is everyone's favorite bad motherf***er himself, Samuel L. Jackson, as Nick Fury. Now it seems we may even be robbed of that one slice of happiness. In an interview today over at the LA Times blog Hero Complex, Jackson hints that all is not well at Marvel, and that his role as Nick Fury is anything but a sure thing at this point.
In response to the character's appearance in Iron Man 2, Captain America, and The Avengers, he says that the role may be recast (with a cheaper actor of course), or Fury may not appear at all. Jackson elaborates further:
I saw ['Iron Man' and 'Iron Man 2' director] Jon Favreau at the Scream Awards and we had a conversation. He said, 'I hope things are working out for you because we're writing stuff for you.' Then all of a sudden last week I talked to my agents and manager and things aren't really working that well.
There was a huge kind of negotiation that broke down. I don't know. Maybe I won't be Nick Fury. Maybe somebody else will be Nick Fury or maybe Nick Fury won't be in it. There seems to be an economic crisis in the Marvel Comics world so [they're saying to me], 'We're not making that deal.'
Of course Marvel is not alone in the economic crisis, but they certainly seem to enjoy kicking their fans in the balls when it comes to cutting costs. First we had Terrence Howard replaced with Don Cheadle in Iron Man 2, and now this?
I'll save my unfiltered vitriol for further developments on this news, but for now I'll say this: There should be no discussion Marvel. Samuel L. Jackson is the best actor for the role (the resemblance of Ultimates Nick Fury to Jackson is what we in the biz call a big f***ing hint). And if it's a cost issue, I suggest you look back at the release of Iron Man and see just how much audiences were excited by Jackson's 10 seconds of screen time.
Getting him in the future Marvel films at this point should be your top priority. Lose him, and you'll lose much of the goodwill you've built up this year.
Discuss: How awesome of an idea is this, folks?
Source: LA Times