This Week In DVD: Swing Vote, Mirrors, Appaloosa, And More
We may receive a commission on purchases made from links.
This Week in DVD is a column that compiles all the latest info regarding new DVD releases, sales, and exclusive deals from stores including Target, Best Buy, Circuit City, and Fry's.
Please don't take the commentary on the movies and TV shows too seriously, as they're meant not to be reviews but rather previews that include the general thoughts and ramblings of a twice-committed DVD addict. The categories represent solely the author's intentions towards the DVDs at hand, and are in no way meant to be a reflection on what he thinks other people should rent or buy. So if he ends up putting a movie you like in the "Skip it" section without having seen it, please keep in mind that the time you could spend leaving a spiteful but ultimately futile comment could instead be used for more pleasant things in life. Like buying DVDs.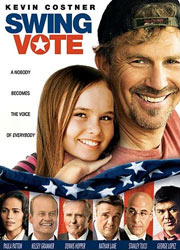 SWING VOTE
Despite his nay-sayers, I quite like Kevin Costner, but there's no getting over the fact that this film has one of the most utterly ludicrous, far-fetched plots of any movie in the past year. One man's vote controlling the entire presidential election? Please. This seems like one of those mildly entertaining yet entirely forgettable movies that you put on late at night to fall asleep to and then never bother finishing the next day.
Blu-ray? Yes.
Notable Extras: Commentary, "Inside the Campaign" featurette, and deleted/extended scenes.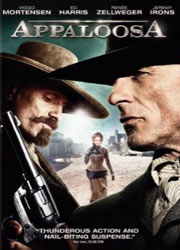 APPALOOSA
I'd be lying if I said I had even the slightest bit of interest in this film, but it's gotten good reviews, so at the very least it's worth recommending to fans of the western genre. Plus it's written and directed by Ed Harris, who stars alongside Viggo Mortensen, Renée Zellweger, and Jeremy Irons. Those credits alone are almost enough to convince me to force myself to sit through the film.
Blu-ray? Yes.
Notable Extras: Commentary, featurettes (Bringing the Characters of Appaloosa to Life, Historic Accuracy of Appaloosa, The Town of Appaloosa, Dean Semler's Return to the Western), deleted scenes, and a digital copy of the film.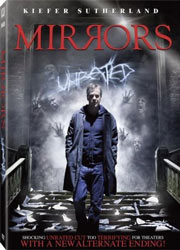 MIRRORS
Well look at that. The most oft-used device for easy scares in horror films now has an entire film based around it. I still cannot believe Alexandre Aja is behind this dreck, which was one of the worst reviewed movies of last year. He showed so much potential with High Tension and the surprisingly great (and decidedly underrated) The Hills Have Eyes remake, it's disappointing to see him make such a huge misstep this early in his career. And apparently Kiefer Sutherland is the lead in this? The trailer could've fooled me.
Blu-ray? Yes.
Notable Extras: Extended cut of the film, 2 featurettes (Reflections: The Making of Mirrors, Behind The Mirror), deleted scenes, and an alternate ending.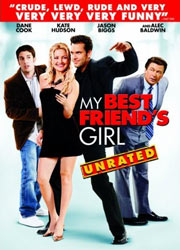 MY BEST FRIEND'S GIRL
From the director of The Whole Ten Yards, and starring the guy who f*cked a pie and has starred in nothing worthwhile since, the girl who's in basically every godawful romantic comedy ever made, and last but not least, Dane Cook. Do I even need to bother explaining why he sucks? Or for that matter, why this movie will?
Blu-ray? Yes.
Notable Extras: Two commentaries, 5 featurettes (Making It in Beantown: Back to Boston Where It All Began, Men and Women: The Good The Bad and The Cast, On a Scale of A-to-Z: Like Father Like Son, The Prom: America's Awkward Rite of Passage), deleted/extended scenes, and a gag reel.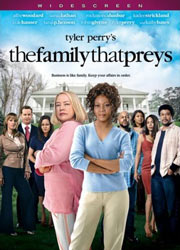 THE FAMILY THAT PREYS
I've spent enough time expressing my disdain for the works of Tyler Perry, so for a change of pace, I'm going to think of the nicest thing I can say about The Family That Preys. OK, here goes: according the critic/audience response, it's the least shitty film he's made so far. Way to go, Tyler! You've moved up from "hopelessly inept" to simply "incompetent."
Blu-ray? No.
Notable Extras: Featurettes (Two Families, Two Legends, Preying in the Big Easy, Casting the Family, Delving into the Diner), and deleted scenes.
Other noteworthy DVDs available this week...
Brideshead Revisited – Little Britain USA – Bustin' Down the Door – Breakfast At Tiffany's (Centennial Collection) – Funny Face (Centennial Collection) – My Bloody Valentine (Special Edition) – Four Weddings and a Funeral (Deluxe Edition)

NOTE: Some deals may be in-store only.

$19.99 – Entourage, Smallville, Veronica Mars, Flight of the Conchords, Seinfeld, Pushing Daisies, Chuck, Weeds, Birds of Prey [ANY SEASON]
$16.99 – The Simpsons (Seasons 1 – 10), Family Guy (Vol. 1 – 6)
$24.99 – The Simpsons (Season 11)
$7.50 – Eastern Promises, Déjà vu, Hot Rod, The Mist, Blades of Glory, Hot Fuzz, Awake