This Week In DVD: Eagle Eye, Ghost Town, Towelhead, And More
We may receive a commission on purchases made from links.
This Week in DVD is a column that compiles all the latest info regarding new DVD releases, sales, and exclusive deals from stores including Target, Best Buy, Circuit City, and Fry's.
Please don't take the commentary on the movies and TV shows too seriously, as they're meant not to be reviews but rather previews that include the general thoughts and ramblings of a twice-committed DVD addict. The categories represent solely the author's intentions towards the DVDs at hand, and are in no way meant to be a reflection on what he thinks other people should rent or buy. So if he ends up putting a movie you like in the "Skip it" section without having seen it, please keep in mind that the time you could spend leaving a spiteful but ultimately futile comment could instead be used for more pleasant things in life. Like buying DVDs.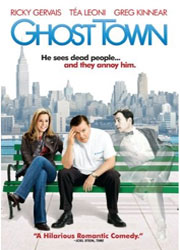 GHOST TOWN
As a huge fan of Ricky Gervais, the trailer for Ghost Town scared the hell out of me. What was this brilliant comedic actor doing in what appeared to be such a bland, unfunny rom-com? Consider my surprise then, when the actual film turned out to be pretty great. It's a mainstream comedy, certainly, but it's also genuinely funny and heartfelt. One of the best surprises of the year.
Blu-ray? Yes.Notable Extras: Commentary by David Koepp and Ricky Gervais, and 3 making-of featurettes (Making Ghost Town, Ghostly Effects, Some People Can Do It).
BEST PRICE
Target
Best Buy
Circuit City
Fry's
$19.99
$18.99
Amazon – $19.99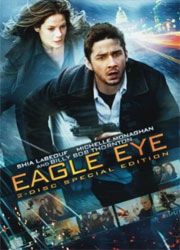 EAGLE EYE(Available as single-disc and 2-Disc Special Edition)
Ridiculous to an extreme, Eagle Eye is a well-made but ultimately disappointing action thriller that's not nearly as cool as its excellent teaser trailer would have you believe. If you can appreciate the occasional mindless action film though, there's some decent entertainment to be found here, just so long as you're able to ignore the many lapses in logic and believability on display.
Blu-ray? Yes.Notable Extras: The single disc includes deleted scenes and an "On Location" featurette. The two-disc includes the previous extras, an alternate ending, featurettes (Asymmetrical Warfare: The Making of Eagle Eye, Eagle Eye on Location: Washington DC, Is My Cell Phone Spying On Me?), and a gag reel.
BEST PRICE*
Target
Best Buy
Circuit City
Fry's
$16.99
$14.99
Amazon – $16.99
*Does not include 2-Disc Edition, which costs $22.99 at each of the listed stores (including Amazon).
EXCLUSIVE DEAL:What? 10 minutes of exclusive content.Where? Circuit City.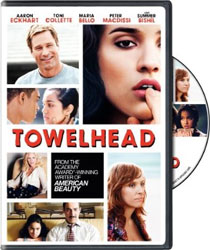 TOWELHEAD
Prior to its release, the controversial Towelhead was one of my most anticipated movies of the year, due primarily to it being the directorial debut of Alan Ball (writer of American Beauty, creator of Six Feet Under). But then the film came out, and nobody seemed to care. Critics were mostly dismissive of it, finding the experience to be unpleasant and unrewarding. Audiences, meanwhile, didn't even bother watching it, leaving the film with a fairly dismal box office intake. I still plan on watching the movie, but at this point, I'm finding it a little hard to work up any excitement for it.
Blu-ray? No.Notable Extras: Towelhead: Community Discussion.
BEST PRICE
Target
Best Buy
Circuit City
Fry's
N/A
$19.99
Amazon – $19.99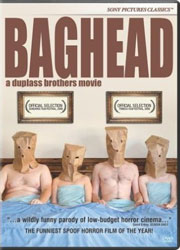 BAGHEAD
This extremely indie horror/comedy appears to be quite the oddity of cinema, which is probably why I'm so eager to check it out. Following four characters who head off to a cabin in an attempt to make the movie that will propel them to stardom, they soon find that their proposed movie about a killer with a bag on his head has become a reality. The audience response has been very mixed, but the positive reviews give me hope.
Blu-ray? No.Notable Extras: Writer/director commentary, a Mark and Jay Duplass Interview, and a Baghead Scares feature.
BEST PRICE
Target
Best Buy
Circuit City
Fry's
N/A
$19.99
Amazon – $25.99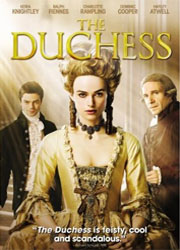 THE DUCHESS
Despite the film's relatively positive reviews, I have no interest in seeing Keira Knightley in another period drama. Ever. It's almost as if Hollywood is incapable of finding another actress to star as the lead in these types of films. Add to that, I start to doze off if I so much as glance at this film's cover. Snooze.
Blu-ray? Yes.Notable Extras: Featurettes (How Far She Went: Making the Duchess, Georgiana In Her Own Words, Costume Diary).
BEST PRICE
Target
Best Buy
Circuit City
Fry's
$19.99
$18.99
Amazon – $16.99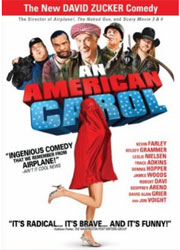 AN AMERICAN CAROL
Right-wing political leanings aside, nothing about this movie looks the slightest bit funny, and last time I checked, that's a pretty essential part of making a comedy. This brings up the question: What the hell happened to David Zucker?
Blu-ray? Yes.Notable Extras: Director's commentary, deleted scenes, and interviews.
BEST PRICE
Target
Best Buy
Circuit City
Fry's
N/A
$14.99
19.99
Amazon – $19.99
Other noteworthy DVDs available this week...Surfer, Dude – Resident Evil: Degeneration – Nip/Tuck (Season 5, Part 1) – Battle for Haditha – Live and Become

NOTE: Some deals may be in-store only.

$14.99 – The Simpsons (Seasons 1 – 11), It's Always Sunny in Philadelphia (Seasons 1 – 3), Entourage (Seasons 1 – 4), Family Guy (Volumes 1 – 6)$19.99 – The Office (Season 3), Heroes (Seasons 1 – 2), Veronica Mars (seasons 1 – 3), Bones (Season 3), Monk (Season 6), Supernatural (Season 1 – 2), Prison Break (Season 3)$24.99 – House (Season 4)

Exclusive: Free lithograph with purchase of standard version of Resident Evil: Degeneration ($19.99).$6.99 – American Gangster (2-Disc Unrated Extended Edition), Serenity (Collector's Edition), Knocked Up (2-Disc Collector's Edition), Anchorman, 40 Year Old Virgin (2-Disc Edition), Old School, The Mummy Returns (2-Disc Deluxe Edition), A Knight's Tale, Footloose (Collector's Edition), Flashdance (Collector's Edition), Fearless (Director's Cut), Mean Girls, Rudy, Jerry Maguire, and more...