Movie Review: Taken (The Would-Be Next Bourne Franchise?)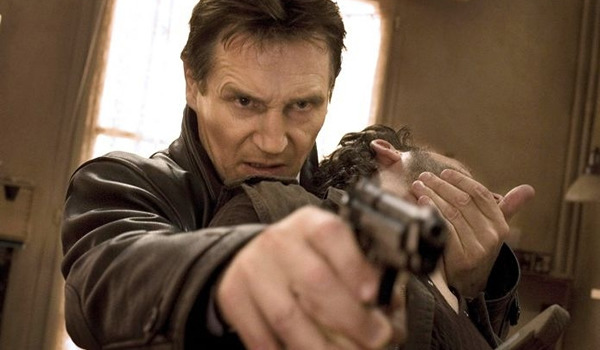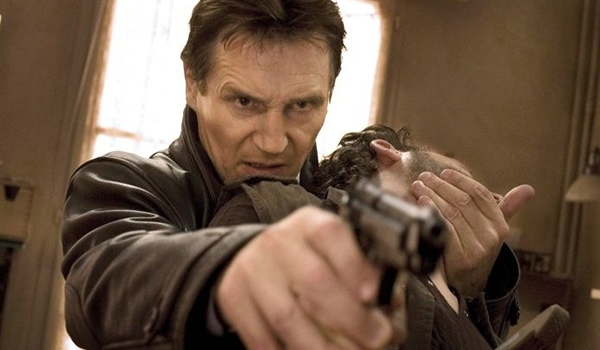 In the next few weeks, quite a few bloggers will debate whether Liam Neeson gives Jason Bourne and James Bond a sharp chop to the throat in the fluid, under-the-radar actioner Taken. Today, FirstShowing.net swept away its weekly confetti and threw a fresh parade for the film in hopes of getting 20th Century Fox's attention. Fox, that ever-maligned of studios, is essentially "dumping" Taken—which has been released everywhere except for America—in late January. So, what's the verdict? I'm not sure if Neeson's vigilant "preventer" could murder someone with, oh, a whisk, but the "real world" he inhabits would definitely make the PG-13 Bourne sob inside his 1,000th borrowed Audi.
Taken attempts to expose modern international sex rings like Paul Schrader's memorable Hardcore did with the darker side of California's porn economy in '79. Like with Hardcore, the audience gradually discovers a lawless, albeit much grander, subculture of greed, sex and death through the eyes of an accomplished actor most audiences see as morally upstanding (Neeson here, George C. Scott there). But Taken's (accurate?) adrenaline-charged presentation of highest-bidder sin is even more effective IMO. Neeson's character, an ex-American spy named Bryan Mills, is on such a lean, linear and kick-ass mission of shoot/stab/kill, that viewers are required to contemplate the potential for female enslavement in the world market at breakneck speed. Moreover, Mills's implied covert past leads you to believe that he's all-too-aware that this flush criminal labyrinth exists as he rushes through it: unsettling, and yet awesome.
The storyline itself is unremarkable: After years spent "serving his country" in secret, Mills retires back to the U.S. to span time with his estranged teenage daughter. As played by Maggie Grace (Lost), this all-American teen is even more clueless and innocent than Juliette Lewis's in Cape Fear. When Mills reluctantly allows his daughter to leave the States for a "normal" tour of Paris with a rich girlfriend, she's promptly kidnapped (this happenstance is admittedly Eli Rothian). Naturally, Mills must cross the Atlantic to find her, cell phone clock ticking, and he chooses not to contact the usual authorities and embassies (implied as totally worthless and possibly complicit). Once he touches down in France, Mills's pursuit and pursuers never let up.
French director, Pierre Morel (the parkour showcase District B-13), and writer/producer, Luc Besson, seem set on making the United States look like a delusional safe haven. There's plenty of ironic jingoistic humor in the movie, accented with un-subtle baguette placement, totes depraved dapper sheiks, and even a stars-and-bars virginal "pop diva."
What Taken executes quite well is an exposition-free drop into a fast-paced world where diplomatic power, secrets, hush money and human traffic roam realistically unchecked. In the film, the black market has become more interconnected, profitable and thus bolder than ever, resulting in a winding, diverse body count and numerous inventive kills. Unlike the similar films of Bourne and Daniel Craig's "realistic" Bond, there is no set villain or organizations. Neeson's character is simply resigned to a highly corrupt world, and his taboo, U.S.-taught tactics counter it so relentlessly that you often laugh and go, "Umm, Bourne probably wouldn't have done that...that was kind of fucked..." If you are expecting Neeson to show his age like Harrison Ford, it's the complete opposite: somehow, this guy could kick Mark Wahlberg and Matt Damon's ass.
Unfortunately, Taken hits a rough patch when landing its ending atop Mills's brutal and family-centric worldview i.e. I see evil people everywhere, and while I love my daughter and ex-wife, they are idiots. (No spoilers ahead.) And in the last third, some of the action enters the "oh c'mon" Die Hard 3 realm of believability, while the creative license taken with a photo kiosk will cause quibbles amongst nerds.
Otherwise, this is a showcase for a great actor to play the rare intelligent, original action hero in a fun, politically incorrect movie...that just so happens to tackle the illegal sex trade in illuminating fashion. (Re: yes, it's several steps above The Cowboy Way!) Taken does indeed merit a much stronger push by Fox and even consideration as a new action franchise. You get the sense that Neeson's character could stand in LaGuardia for less than an hour and discover an urgent mission for a sequel that's ahead of today's headlines. If not, just leave his 17-year-old daughter alone on a playground with an iPod. Unlike Morel and Besson's upcoming From Paris with Love, evidently starring John Travolta as a bloated Zangief doppelganger undergoing chemo, Taken 2 needs to happen. Of course, it likely won't because Neeson's character doesn't wear a mask and have X-ray vision. The movie marketplace can be nearly as grim.
7.5/10Discuss: Any thoughts on Taken from those who have seen it?Hunter Stephenson can be reached at h.attila[@]gmail.com and via Twitter.