Saturday Box Office: The Wrestler Is Headed For 2008's Second-Best Per Theater Average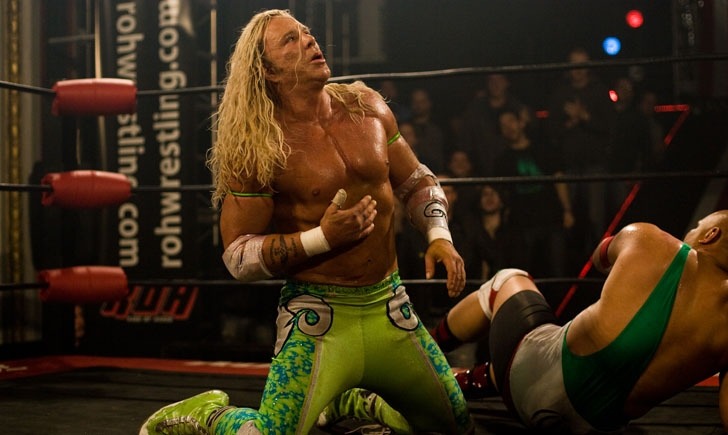 Bad weather with several major storms, including one in the Northeast, are making this a challenging weekend to project. I have revised my the 3-day estimates I released last night to allow for films to enjoy slightly stronger Saturdays, but the general story is the same. Jim Carrey and Yes Man (Warner Bros) at #1, Will Smith and Seven Pounds (Sony) at #2 and Tale of Despereaux (Universal) at #3.
My major analysis piece I published Friday night still stands with the headlines being that Warner Bros now seems destined to cinch the all-time best one year domestic sales figure in studio history and Will Smith's streak of consecutive $100M grossing movies will almost certainly end at 8 with his Gabriele Muccino-directed drama.
One major change is that Slumdog Millionaire (Fox Searchlight) hasn't expanded nearly as well as I originally projected. The almost certain Best Picture nominee increased to 589 locations this weekend and the result will be a likely 8th-place finish with about $2.94M and a PTA of $4,999 or so.
EXCLUSIVE STEVE MASON REVISED EARLY 3-DAY ESTIMATES
1. NEW – Yes Man (Warner Bros) – $19.5M, $5,684 PTA, $19.5M cume
2. NEW – Seven Pounds (Sony) – $16M, $5,806 PTA, $16M cume
3. NEW – Tale of Despereaux (Universal) – $14.09M, $4,540 PTA, $14.09M cume
4. The Day the Earth Stood Still (Fox) – $8.97M, $2,522 PTA, $47.54M cume
5. Four Christmases (Warner Bros) – $7.3M, $2,080 PTA, $99.72M cume
6. Twilight (Summit) – $5.1M, $1,706 PTA, $158.3M cume
7. Bolt (Disney) -$4.45M, $1,501 PTA, $95.2M cume
8. Slumdog Millionaire (Fox Searchlight) – $2.94M, $4,999 PTA, $11.92M cume
9. Australia (Fox) – $2.15M, $975 PTA, $41.77M cume
10. Quantum of Solace (Sony) – $1.6M, $798 PTA, $172.4M cume
11. Madagascar: Escape 2 Africa (Dreamworks/Paramount) – $1.6M, $798 PTA, $172.42M cume
12. Milk (Focus) – $1.57M, $4,417 PTA, $10.25M cume
13. Nothing Like the Holidays (Overture) – $1.15M, $689 PTA, $5.77M cume
On the specialty front, Mickey Rourke is a box office attraction again. The one-time movie star was at his peak in the 1980's with movie like Diner ($14M cume), The Pope of Greenwich Village ($6.8M cume), 9 1/2 Weeks ($6.7M cume) and Angel Heart ($17.1M cume) is riding the crest of an enormous comeback wave. His role in Darren Aronofsky's The Wrestler (Fox Searchlight) has already earned him a Golden Globe nomination for Best Actor – Drama and Independent Spirit Award nomination for Best Male Lead and a SAG Award nomination for Best Male Actor, and now the film has scored a huge opening weekend Per Theatre Average.
The Wrestler opened on Wednesday at 4 locations managing an outstanding $11,732 PTA. The extraordinarily well-reviewed movie is headed for a 3-day of $210,900, which will translate to an estimated $53,438 per location. That marks the second-best PTA of the year, trailing only the $60,236 debut of Frost/Nixon (Universal) two weeks ago.
At #2 on the weekend PTA scoreboard is Clint Eastwood's Gran Torino (Warner Bros), which is a bit of a disappointment registering an average of approximately $23,400 at each of its 19 playdates. As Eastwood has admitted, this may be his final on-screen performance, but when the Hollywood Foreign Press ignored him in its annual Golden Globe nominations and then the SAG Awards bypassed the screen legend as well in the Best Male Actor category, it likely damaged the movie's ability to compete on a limited basis with other pictures with stronger awards resumes.
In my Friday Night Estimates story, I wrote that Gran Torino may be able to bank $5.4M by the end of the year. Even with an expansion to 70 locations on Christmas Day, the softer-than-expected Friday probably means that Clint's "swan song" is more likely to be at $3.1M or so at the end of business of December 31. Regardless, I am still projecting that Warner Bros will likely break the all-time one-year record for domestic sales for a studio.
John Patrick Shanley's Doubt, a film adaptation of his Tony and Pulitzer Prize winning play, will bank about $703,000 or so this weekend at 39 locations for a PTA of just over $18,000. That compares favorably to recent movies like Rachel Getting Married (Sony Classics), which managed $16,500 per screen in its first expansion (27 playdates) and Frost/Nixon, which generated just over $16,000 per screen in week #2 (39 playdates). With Golden Globe and SAG Awards nominations for Meryl Streep, Phillip Seymour Hoffman, Amy Adams and Viola Davis, Doubt should continue to play well through the awards season.
Weinstein has elected to hold expansion for The Reader until Christmas Day, so the picture remains on 4 screens and appears headed for about $114,000 by Monday, down about 35% from its opening weekend at the same locations. That would give Stephen Daldry's Oscar contender the fourth-best weekend PTA at a possible $14,240.
Ron Howard's amazing Frost/Nixon picked up just 2 new locations this weekend as Universal prepares for a major Christmas Day expansion. Powered by SAG Awards nominations this week for Best Ensemble and Best Male Actor: Frank Langella, the film will add about $361,000 this weekend, down about 42%. That equates to an $8,805 PTA, #5 for the frame.
STEVE MASON'S EXCLUSIVE EARLY 3-DAY PTA ESTIMATES
1. NEW – The Wrestler (Fox Searchlight) – 4 locations – $53,438 PTA
2. Gran Torino (Warner Bros) – 19 locations – $23,400 PTA
3. Doubt (Miramax) – 39 locations – $18,026 PTA
4. The Reader (Weinstein) – 8 locations – $14,240 PTA
5. Frost/Nixon (Universal) – 41 locations – $8,805 PTA
6. NEW – Seven Pounds – 2,785 locations – $5,806 PTA
7. NEW – Yes Man (Warner Bros) – 3,434 locations – $5,498 PTA
8. Slumdog Millionaire (Fox Searchlight) – 589 locations – $4,999 PTA
9. NEW – Tale of Despereaux (Universal) – 3,104 locations – $4,540 PTA
10. Milk (Focus) – 356 locations – $4,417 PTA