Cool Stuff: Tyler Stout's Robocop Poster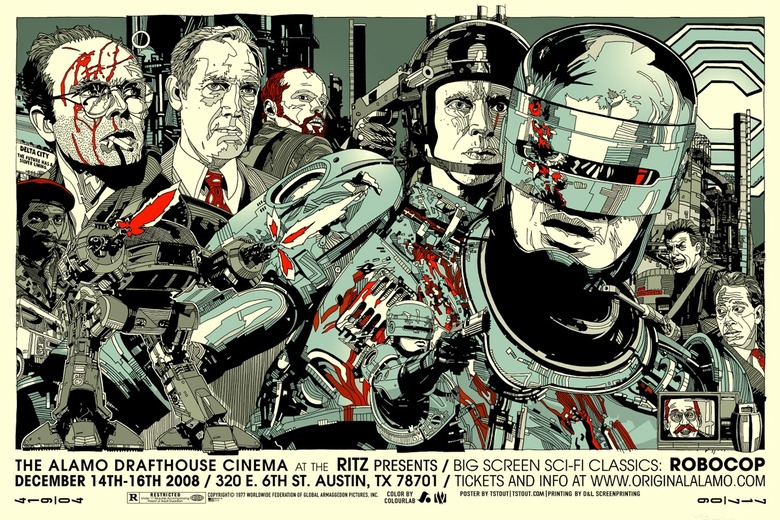 Cool Stuff is a daily weekday feature on /Film. For the most part, we stick to the one a day rule, but every once in a while something comes along that forces us to break that rule. In most cases, I would just hold the item until the next day, or in this case, because its Friday, it would be held off until Monday.
But with a Tyler Stout poster print, they usually go pretty fast. And who is to know if they will even still be available after the weekend. His latest poster for the Alamo Drafthouse is for Robocop. As much as I loved Tim Doyle's Robocop on a unicorn poster, this is much cooler. Click on the poster image above to see all of the detail work!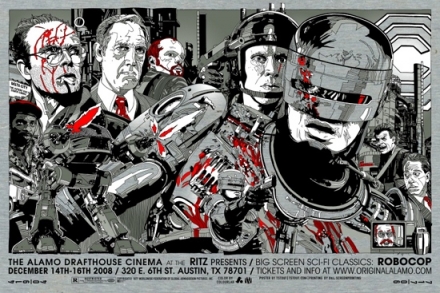 The poster is 24x36, 5 color, and individually numbered. Printed by D and L, the regular version is priced at $30, while they are offering a totally badass variant which is printed on a sheet of metal. How f'n cool is that? The variant is being sold for $250.
Cool Stuff is a daily feature of slashfilm.com. Know of any geekarific creations or cool products which should be featured on Cool Stuff? E-Mail us at orfilms@gmail.com.