Cool Stuff: Batman's Shakespeare Bust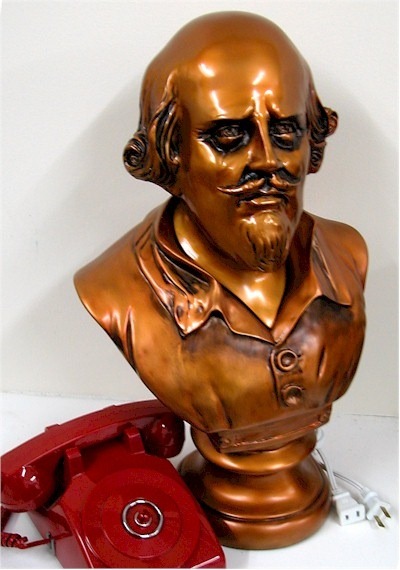 On the old Batman television show, Bruce Wayne and Dick Grayson would be in the library in stately Wayne Manor when the unmarked red phone would ring looking for Batman's help. Bruce would tilt the head back of a bust of William Shakespeare to find a hidden remote control which he would use to open a hidden door the the book shelves which house Batpoles which lead to the Batcave. While I don't ever expect to have a Batcave of my own, I would love to build a hidden door into my future home. And what would be better to hide the remote key in but the same Shakespeare bust used in the tv series? Featured in WIRED Magazine's "Top 100 Gifts", The Shakespeare Statuette with Hidden Remote Control can be used to switch a door, lights, music, — anything that works on electricity
"An industrial-style pilot light shows when power is being fed to the remote power outlet. 16 Gauge wire, 1625 watts maximum, indoor use only. Components are UL approved. The antique bronze-color "Bard of Avon" is about 20 inches tall and about 12 inches wide at the shoulders." ... "BatPhone in photo above is not included."
Priced at $315 on RedHotPhones.com.
Cool Stuff is a daily feature of slashfilm.com. Know of any geekarific creations or cool products which should be featured on Cool Stuff? E-Mail us at orfilms@gmail.com.