Box Office Tracking: Yes Man Over Seven Pounds; The Wrestler Could Make $310,000 On 4 Screens In Just 5 Days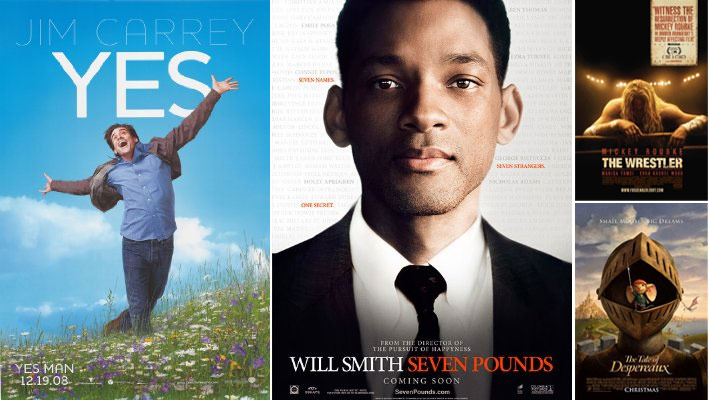 The weekend box office battle boils down to Jim Carrey vs. Will Smith. This is a match-up between the former "World's Biggest Box Office Star" and the reigning champ, and I am giving a slight advantage to the challenger. Either Yes Man (Warner Bros) or Seven Pounds (Sony) could score the weekend-before-Christmas win, but I am predicting a victory for Carrey.
These are two of the most successful movie stars in history. Only Tom Hanks, Tom Cruise and Eddie Murphy have more $100M hits on their resume than Will Smith with 12, and Carrey is only one behind at 11 blockbusters to clear the magical threshold.
MOST $100M+ HITS IN A CAREER
-including animated films & excluding cameos -
1. Tom Hanks – 15
2. Tom Cruise – 14
3. Eddie Murphy – 13
4. Will Smith – 12
4. Harrison Ford – 12
6. Jim Carrey – 11
6. Robin Williams – 11
8. Mel Gibson – 10
9. Matt Damon – 9
10. Bruce Willis – 8
10. Jack Nicholson – 8
Will Smith, however, has done something unprecedented – a feat never done by the Toms – Hanks and Cruise. Hancock was his 8th consecutive $100M+ grossing blockbuster. Hanks and Cruise both had career-best streaks of 7 films topping $100M.
2002 – Men in Black II – $52.1M opening – $190.4M cume
2003 – Bad Boys II – $46.5M opening – $138.6M cume
2004 – I, Robot – $52.1M opening – $144.8M cume
2004 – Shark Tale – $47.6M opening – $160.8M cume
2005 – Hitch – $43.1M opening – $179.4M cume
2006 – The Pursuit of Happyness – $26.5M opening – $163.5M cume
2007 – I Am Legend – $77.2M opening – $256.4M cume
2008 – Hancock – $62.6M opening – $227.9M cume
For comparison, 5 of Carrey's past 8 films have scored at least $100M domestic, including this year's animated Dr. Suess' Horton Hears a Who! ($154.5M cume), but he has veered away from the purely commercial with 2001's poorly-reviewed drama The Majestic ($27.8M cume), the Academy Award winning Eternal Sunshine of the Spotless Mind ($24.4M cume) in 2004 and 2007's misguided horror release The Number 23 ($35.1M cume).
Neither picture is getting help from critics with Yes Man at 35% Fresh on Rotten Tomatoes and Seven Pounds registering a meager 30% Fresh as of Thursday night. Given the generally poor notices, I say Yes Man wins for 3 reasons:
1. More playdates 3,434 to 2,758
2. Tone – People are more interested in a couple of laughs than they are in a "heavy" spiritual message, even if it is generally optimistic
3. Warner Bros can do no wrong in 2008
4. Will Smith backlash
Lou Lumenick from the New York Post points out on his blog that on November 4, Will was informed by his 16-year old son that the Presidential race was over. The first-ever election of an African American to be the Leader of the Free World hadn't reached the rarified air of the World's Biggest Movie Star. Lumenick says he can't imagine Paul Newman, a great movie star and philanthropist, ever being that out-of-touch with what's important in the life of everyday people.
And there's the brutally scathing Todd McCarthy review in Variety who rips Seven Pounds for its pretentiousness and self-importance. He reports that Smith doesn't shy away from, "the saintlike status conferred upon his character. Indeed, he embraces it in a way so convincing that it proves disturbing as an indication of how highly this or any momentarily anointed superstar may regard himself."
Just because media types think Will is a little "full of himself," does not mean that the rank-and-file moviegoer will agree. In Australia, there is something called "Tall Poppy Syndrome." As my always-credible friends at Wikipedia say, "Someone is said to be a target of 'Tall Poppy Syndrome' when his or her assumption of a higher economic, social or political position is criticized as being presumptuous, attention seeking, or without merit."
Then again, it may all be a case of sour grapes. When a star of Smith's caliber takes a risk – and make no mistake, this is a risky, challenging film – he should be accorded some respect for his effort. Let's face it. If Will Smith wanted to crank out generic action movies for the rest of his life, Hollywood would give him big bags of money.
I believe that, even though Seven Pounds may not win its opening weekend, its heart wrenching-yet-hopeful story will connect with enough moviegoers to make it Will's 9th consecutive $100M-grossing movie, which would be the 13th of his career. My final prediction is for a $24.78M opening. Meanwhile, the cheerful, if-not-hilarious high-concept comedy of Yes Man could win the weekend with a possible $26.35M.
Meanwhile, the other new wide release is Universal's animated Tale of Despereaux, receiving fair-to-middling reviews as of Thursday night (43% Fresh on Rotten Tomatoes). With Madagascar: Escape 2 Africa nearing the end of its run and Bolt tailing off, industry tracking points to an opening in the mid-teens for Despereaux. My final call is for about $15.19M, which could set it up for a decent little Christmas week run.
Fox's holdover The Day the Earth Stood Still will crash-and-burn this weekend, possibly dropping by as much as 67% for a disastrous $10.11M and a 10-day cume of only $48.6M. Close-behind at #5 will be Four Christmases (Warner Bros), which may drop as little as 25% to a possible $9.75M. By Monday morning, the Vince Vaughn-Reese Witherspoon holiday comedy will pass the $100M mark.
Among the specialty releases, Slumdog Millionaire (Fox Searchlight) adds 420 locations and may deliver as much as $4.64M. Danny Boyle's modern masterpiece is riding a huge wave of acclaim including Golden Globe nominations for Best Picture – Drama and Best Director and SAG Awards nominations for Best Ensemble and Best Supporting Actor: Dev Patel. No company is better at the "science" of a platform release than Searchlight, and I am forecasting a PTA of $7,891 for this gutty little Best Picture contender.
Other award favorites expand to varying degrees. Milk (Focus) adds 28 locations and could reach $2.8M for a $7,876 PTA. Miramax's excellent Doubt, with Golden Globe and SAG Award nominations for Meryl Streep, Phillip Seymour Hoffman, Amy Adams and Viola Davis, expands to 39 playdates, and I am anticipating just over $1M for a Per Theatre Average of $27,341. Clint Eastwood's Gran Torino (Warner Bros), which won him the National Board of Review's Best Actor notice, but has been completely shut out of major categories at the Golden Globes and SAG Awards, adds 13 carefully chosen screens. I am calling for about $687,000 by Monday with a PTA of just over $36,000.
Oscar contenders Frost/Nixon (Universal) and The Reader (Weinstein) are holding off on expansion until Christmas Day. Powered by Frank Langella's remarkable performance, Frost/Nixon seems headed for a $14,600 or so weekend PTA while Stephen Daldry's meditation on Germany's sense of guilt over the Holocaust should deliver just over $16,000 per location.
The new limited release this week is the critically-hailed Darren Aronofsky-directed Mickey Rourke vehicle The Wrestler (Fox Searchlight). The movie opened on 4 screens Wednesday churning up an $11,732 PTA on opening day alone. There is clearly more-than-a-little anticipation for this unexpected awards contender, and it may achieve just over $310,000 in just 5 days. That would mean a 3-day Per Theatre Average of almost $58,000, just shy of the year's best weekend PTA mark set by Frost/Nixon 2 weeks ago.
FINAL WEEKEND PREDICTIONS FOR THE WEEKEND OF 12/19
1. NEW – Yes Man (Warner Bros) – $26.35M
2. NEW – Seven Pounds (Sony) – $24.78M
3. NEW – Tale of Despereaux (Universal) – $15.19M
4. The Day the Earth Stood Still (Fox) – $10.11M
5. Four Christmases (Warner Bros) – $9.75M
6. Bolt (Disney) – $5.49M
7. Twilight (Summit) – $4.78M
8. Slumdog Millionaire (Fox Searchlight) – $4.64M
9. Milk (Focus) – $2.8M
10. Australia (Fox) – $2.57M
11. Quantum of Solace (Sony) – $2.24M
12. Madagascar: Escape 2 Africa (Dreamworks/Paramount) – $1.84M
13. Nothing Like the Holidays (Overture) – $1.69M
*Doubt (Miramax) – $1.06M
*Gran Torino (Warner Bros) – $687,000
*Frost/Nixon (Universal) – $602,000
*NEW – The Wrestler (Fox Searchlight) – $232,000
*The Reader (Weinstein) – $131,000