G.I. Joe: The Rise Of Cobra Character Posters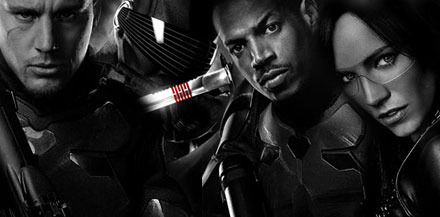 Paramount Pictures has released four new character posters for Stephen Sommer's big screen live-action G.I. Joe: The Rise of Cobra. The posters were on display at a licensing fair in June, but Filmz.ru is the first site to have official scans. The posters feature (clockwise) Ray Park as Snake Eyes, Marlon Wayans as Ripcord, Channing Tatum as Duke, and Sienna Miller as Baroness. What is with Paramount's marketing department and their obsession with desaturated character shots recently?
From the Egyptian desert to deep below the polar ice caps, the elite co-ed GI JOE team, based from it's headquarters The Pit, deploys the latest in next-gen spy and military equipment to fight crooked arms dealer Destro and the growing threat of the mysterious COBRA organization from plunging the world into chaos.
G.I. Joe: The Rise of Cobra hits theaters on August 7th 2009.