Olivia Wilde And Beau Garrett In TR2N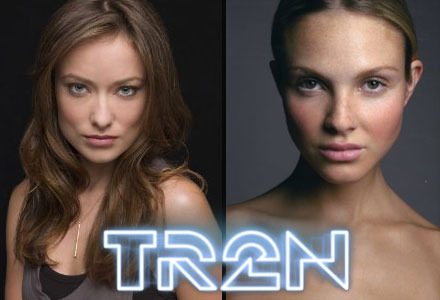 Turistas stars Olivia Wilde (House, The O.C.) and Beau Garrett (Rise of the Silver Surfer, Made of Honor) have been cast in Disney's Tron sequel TR2N, which is being directed by commercial turned film director Joseph Kosinski. I am worried about Disney's initial casting announcements. I'm pretty sure that the stars of Turistas are not the stars geeks were hoping for.
According to THR, Garrett will play a siren and Wilde will play a worker in the virtual world who tries to help fight Master Control Program, who you remember from the original film. Jeff Bridges has already signed on to reprise his role from the first film. The male lead has not yet been cast, but the studio is screen-testing actors as we speak.
Kosinski's tech demo for the film was fashioned into a teaser trailer which was probably the biggest  buzzed about movie of the 2008 San Diego Comic Con.  According to IMDb, the film is the fourth most searched movie of 2008, above such films as Iron Man, Indiana Jones and the Kingdom of the Crystal Skull, Cloverfield, and Quantum of Solace. So this could be one of their biggest non family movies in years.
Disney hopes to begin shooting in Spring 2009 using 3D cameras, and the studio is eyeing a 2011 release.
Discuss: What do you think about Wilde and Garrett being cast in TR2N?