New Photos: Guy Ritchie's Sherlock Holmes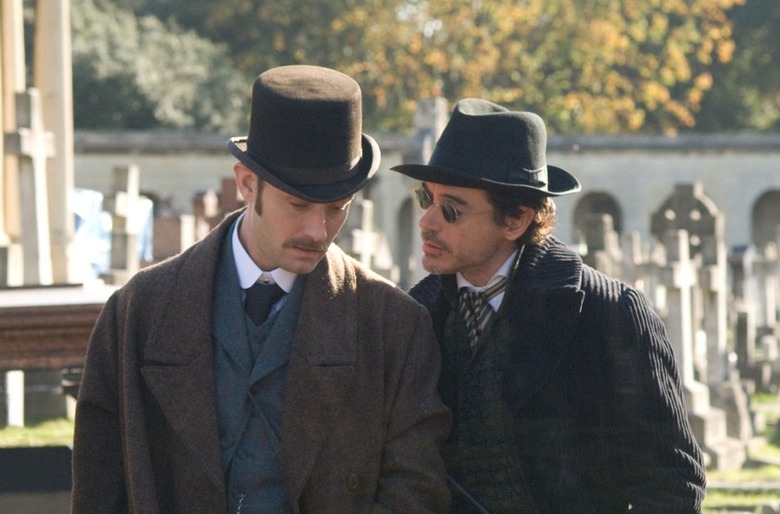 In the last couple months we've brought you on set paparazzi photos of the cast, but now Warner Bros has released the first two official photos from Guy Ritchie's Sherlock Holmes. The photo above features Robert Downey Jr as Sherlock, alongside Holmes' trusted colleague Dr. Watson, played by Jude Law. The photo below features a bloodied, shirtless Holmes in some king of fighting arena. Anthony Peckham's script is based on a mixture of Sir Arthur Conan Doyle's classic tales and the Lionel Wigram comic book adaptation which presents a more active version of the famous detective. And for Warner Bros to choose this photo as one of the first photos to release is making a statement – this is not your father's Sherlock Holmes.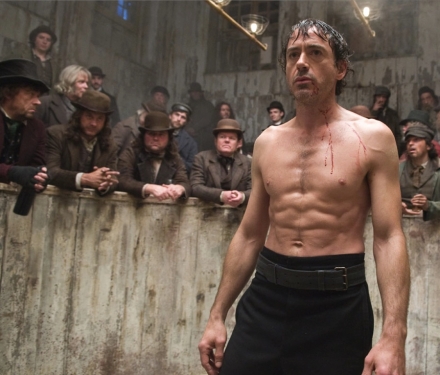 Rachel McAdams costars as Irene Adler, Sherlock's love interest, and Mark Strong is on board to play the villain Blackwood. Sherlock Holmes and his stalwart partner Watson are sent on their latest challenge. Revealing fighting skills as lethal as his legendary intellect, Holmes will battle as never before to bring down a new nemesis and unravel a deadly plot that could destroy the country.