First Of 10 New Battlestar Galactica Webisodes Released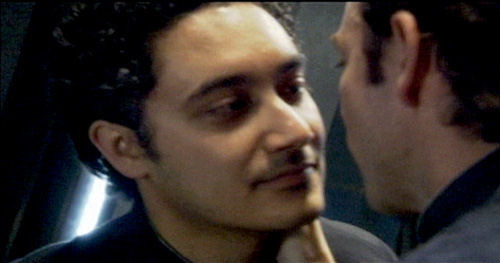 The first in a series of 10 new Battlestar Galactica webisodes hit the web tonight, and if anything it's proven that January 16 (the beginning of the new BSG season) cannot get here soon enough. While only four minutes long, the familiar sights and sounds of Galactica are easily enough to get my fanboy juices flowing. The series of webisodes is titled "The Face of the Enemy", and will see a staggered release until January 12.
This is the third series of BSG webisodes (after the Resistance and Razor webisodes), and while they haven't always been entirely successful as a fulfilling narrative, they've generally done a great job at getting me excited for the return of the series.
The episode is set shortly after the big reveal from last season's finale, and focuses on Lt. Gaeta, who is forced by Col. Tigh to get some rest on a nearby ship—all he needs to do is take a shuttle to get there. Nothing can go wrong with this plan.
There are some interesting firsts in this episode's short run time (we see Gaeta post-op, and the poor guy finally gets some action), but ultimately it's just set up for the rest of the webisodes. My only complaint is that Sci-Fi really needs to offer these episodes in a better platform. Why are they streaming them in low-quality when they can offer the episodes in 480p (or better) via Hulu? Why can't we embed the video? And do they really need to lock out international viewers? These webisodes are built to go viral, but restrictions such as these will prevent that from ever happening.
Update: Scratch part of that rant above, as Isaac and Mario have pointed out below, it's on Hulu now. My argument against region locking still stands though, but as some mentioned, international viewers might have some luck on Youtube...