LOL: LA Vandals Spoil Marley & Me's Ending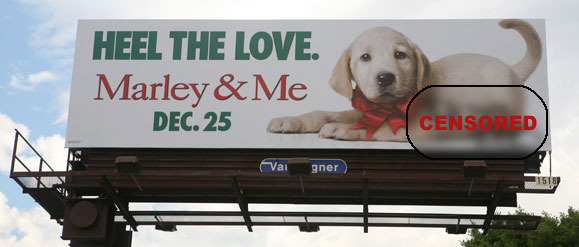 /Film reader Stephanie O just informed me that Los Angeles vandals are tagging Marley & Me bus shelter banners and highway billboards with the film/book's climactic spoiler.
I'm not sure what to think of this. Obviously, /Film doesn't condone graffiti or breaking the law. I'm sure that I would have been outraged if vandals had done this to Empire Strikes Back or Sixth Sense, but for some reason it seems a bit funnier when the movie in question is the latest Jennifer Aniston romantic dramedy. I include the uncensored images after the jump, but be forewarned of the massive spoiler.
We warned you.
Spoiler Warning.
Photos contain big spoiler.
Below.
The heartwarming and unforgettable story of a family in the making and the wondrously neurotic dog who taught them what really matters in life. Marley & Me hits theaters on December 25th 2008.