2008 Golden Globe Odds Revealed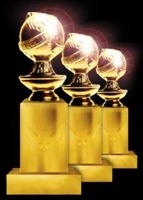 Yesterday the Golden Globe nominations were announced, and already online gambling sites are taking bets on the winners. BetOnline already has odds up on every major category. Here are some of the highlights:
Heath Ledger is a heavy favorite to win Best Supporting Actor with 5/4 odds.
The Curious Case of Benjamin Button has a 66% chance of winning Best Drama.
Sean Penn is the odds on favorite to win Best Dramatic Actor for Milk with 4/5 odds.
Full listing of odds after the jump.
Best Drama Picture:The Curious Case of Benjamin Button 3/2
Slumdog Millionaire 8/5
Frost/Nixon 5/1
The Reader 7/1
Revolutionary Road 10/1
Best Comedy or Musical:
Mamma Mia 9/4
Burn After Reading 11/4
Vicky Cristina Barcelona 11/4
Happy Go Lucky 4/1
In Bruges 8/1
Best Actor Drama:Sean Penn 4/5
Frank Langella 7/2
Mickey Rourke 5/1
Brad Pitt 6/1
Leonardo DiCaprio 8/1
Best Actor Comedy:Javier Bardem 3/2
James Franco 7/4
Colin Farrell 5/1
Dustin Hoffman 6/1
Brendan Gleeson 8/1
Best Actress Drama:Meryl Streep 9/5
Kate Winslett 2/1
Angelina Jolie 7/2
Anne Hathaway 5/1
Kristin Scott Thomas 12/1
Best Actress Comedy:Sally Hawkins 6/5
Rebecca Hall 3/1
Meryl Streep 7/2
Emma Thompson 6/1
Frances McDormond 8/1
Best Director:David Fincher 3/2
Ron Howard 5/2
Danny Boyle 7/2
Stephen Doldry 5/1
Sam Mendez 8/1
Best Supporting Actor:Heath Ledger 5/4
Phillip Seymour Hoffman 9/4
Robert Downey Jr 3/1
Tom Cruise 9/1
Ralph Fiennes 12/1
Best Supporting Actress:Penelope Cruz 5/7
Kate Winslett 7/2
Viola Davis 5/1
Marissa Tomei 8/1
Amy Adams 10/1
Best TV Drama:Mad Men 3/2
House 2/1
In Treatment 5/1
Dexter 6/1
True Blood 6/1
Best TV Comedy:30 Rock 3/2
The Office 9/5
Californication 5/1
Entourage 5/1
Weeds 10/1
Best TV Actor Drama:Hugh Laurie 3/2
Jon Hamm 9/5
Michael C Hall 4/1
Gabriel Byrne 6/1
Jonathan Rhys Myers 10/1
Best TV Actor Comedy:Alec Baldwin 7/5
Steve Carell 7/4
David Duchovny 6/1
Tony Shalhoub 6/1
Kevin Connolly 9/1
Best TV Actress Drama:Sally Field 10/11
Mariska Hargitay 3/1
January Jones 5/1
Kyra Sedgwick 5/1
Anna Paquin 10/1
Best TV Actress Comedy:Tina Fey 3/2
America Ferrera 7/2
Debra Messing 4/1
Christina Applegate 4/1
Mary Louise Parker 6/1