Geek Deals: Angel DVD Set For $51; Force FX Lightsabers For $50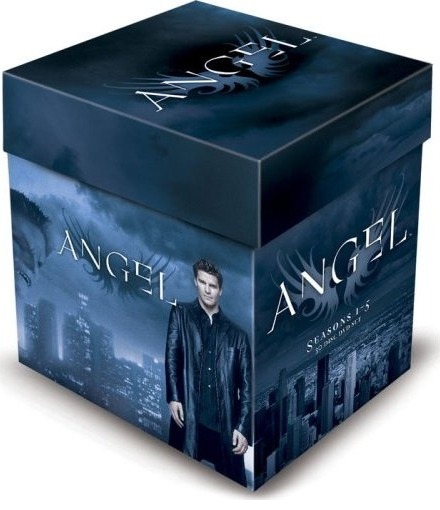 We may receive a commission on purchases made from links.
A few weeks back, Amazon was offering the Buffy the Vampire complete series collectors set for $70, and I picked it up despite not being a Buffy fan. I have since found the time to only watch 3 episodes. I like what I've seen so far, and people tell me it only gets way better. I've heard a lot of high praise for the spin-off series Angel. I wish I could clone myself, I would be able to get a lot more done that way. Unfortunately that isn't possible, and while tempting, I might have to hold off on Amazon's 24-hour only Gold Box Deal of the day:
Angel – Seasons 1-5 30-Disc DVD Set for Only $50.99, 64% off the retail price.
But I'm sure a lot of you will jump at this opportunity. I still have the Complete series of The Write to catch up on.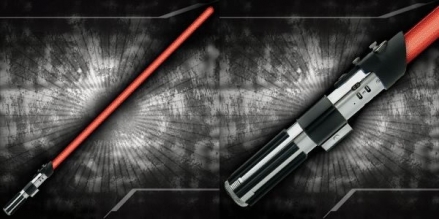 Walmart has put the Star Wars Force FX Lightsabers on clearance for only $50, about 60% off the normal $120 retail price. As of this posting, the Darth Vader and Obi-Wan Kenobi sabers are the only ones still in stock online. I bet that won't last long. You might want to check your local store. Master Replicas lost the license to make the Force FX Lightsabers to Hasbro. From what I can tell, the Hasbro lightsabers are identicle to the old Master Replica models.Previous (Still Valid) Geek Deals: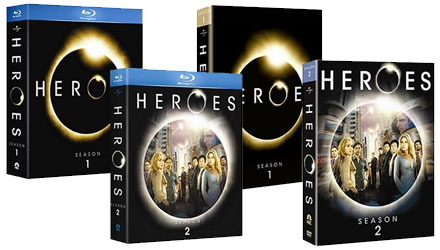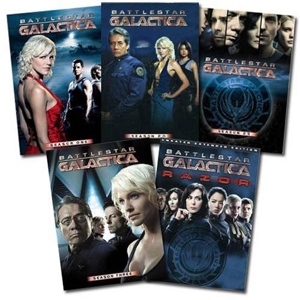 Amazon has extended their Heroes and Battlestar Galactica sale until the end of the year. You can buy the first two seasons of Heroes on DVD for $49.99, 50% off the $100 MSRP or you can buy the first two seasons on Blu-ray for $90.99, 46% off the $170 MSRP. Amazon also has Seasons 1-3 of Battlestar Galactica plus the television movie Razor on DVD for only $121.99, 48% off the normal $235 msrp.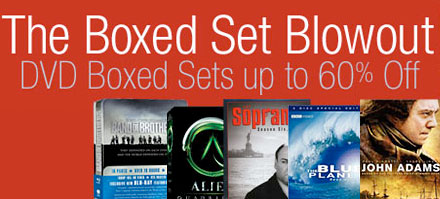 Amazon is also having a Box Set Blow-out with Movie and Television box sets for up to 60% Off. Here are some highlights:
$34.99 – Gilligan's Island – The Complete Series Collection
$39.99 – Mel Brooks Collection (Blazing Saddles / Young Frankenstein / Silent Movie / Robin Hood: Men in Tights / To Be or Not to Be / History of the World, Part 1 / The Twelve Chairs / High Anxiety)$43.99 – Band of Brothers Blu-Ray$46.49 – The Alfred Hitchcock Signature Collection (Strangers on a Train Two-Disc Edition / North by Northwest / Dial M for Murder / Foreign Correspondent / Suspicion / The Wrong Man / Stage Fright / I Confess / Mr. and Mrs. Smith)
$48.49 – The Woody Allen Collection, Set 1 (Annie Hall/Manhattan/Sleeper/Bananas/Interiors/Stardust Memories/Love and Death/Everything You Always Wanted to Know About Sex But Were Afraid to Ask)
$50.49 each – Doctor Who Complete First and Second Series$52.99 – The Prisoner – Complete Series Megaset (40th Anniversary Edition) $59.99 – Alfred Hitchcock Premiere Collection (Lifeboat / Spellbound / Notorious / The Paradine Case / Sabotage / Young and Innocent / Rebecca / The Lodger)
$99.99 – Sex and the City Complete Series
$143.99 – Friends Complete Series$137.49 – United Artists 30-Film Deluxe Giftset$433.99 – United Artists 90-Film Prestige Collection
Also, remember that Amazon's 50% off Movies and TV Sale is good until December 18th. Here are some of the highlights: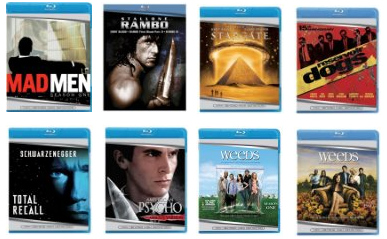 Rambo 1-3 Boxset – $24.99
Weeds Season 1 and 2 – $13.99 each
Mad Men Season One – $24.99
Stargate (Extended Cut) – $9.99
Reservoir Dogs (15th Anniversary) – $12.49
American Psycho – $12.49
Total Recall – $9.99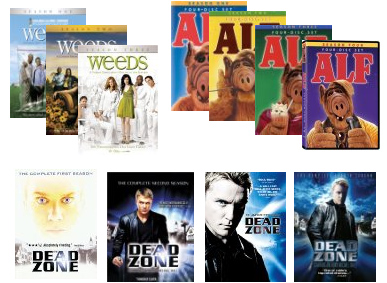 Weeds Season 1-2 $14.49 each
Weeds Season 3 – $18.99
Alf Season 1 – 4 – $12.49 each
The Dead Zone Season 1-4 – $9.49 each