Geek Deals: Heroes And Battlestar Sale Extended
We may receive a commission on purchases made from links.
Amazon has extended their Heroes and Battlestar Galactica sale until the end of the year.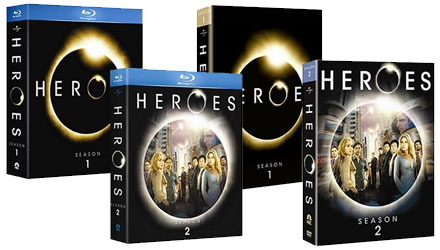 You can buy the first two seasons of Heroes on DVD for $49.99, 50% off the $100 MSRP or you can buy the first two seasons on Blu-ray for $90.99, 46% off the $170 MSRP.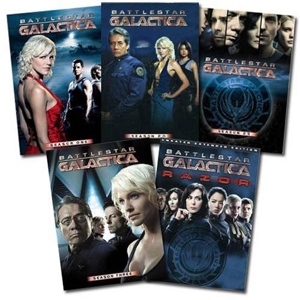 Amazon also has Seasons 1-3 of Battlestar Galactica plus the television movie Razor on DVD for only $121.99, 48% off the normal $235 msrp.
Previous (Still Valid) Geek Deals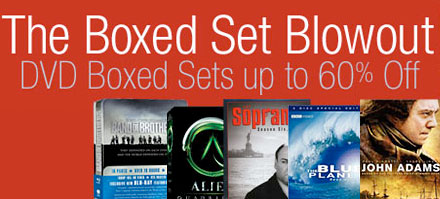 Amazon is also having a Box Set Blow-out with Movie and Television box sets for up to 60% Off. Here are some highlights:
$34.99 – Gilligan's Island – The Complete Series Collection
$39.99 – Mel Brooks Collection (Blazing Saddles / Young Frankenstein / Silent Movie / Robin Hood: Men in Tights / To Be or Not to Be / History of the World, Part 1 / The Twelve Chairs / High Anxiety)
$43.99 – Band of Brothers Blu-Ray
$46.49 – The Alfred Hitchcock Signature Collection (Strangers on a Train Two-Disc Edition / North by Northwest / Dial M for Murder / Foreign Correspondent / Suspicion / The Wrong Man / Stage Fright / I Confess / Mr. and Mrs. Smith)
$48.49 – The Woody Allen Collection, Set 1 (Annie Hall/Manhattan/Sleeper/Bananas/Interiors/Stardust Memories/Love and Death/Everything You Always Wanted to Know About Sex But Were Afraid to Ask)
$50.49 each – Doctor Who Complete First and Second Series
$52.99 – The Prisoner – Complete Series Megaset (40th Anniversary Edition)
$59.99 – Alfred Hitchcock Premiere Collection (Lifeboat / Spellbound / Notorious / The Paradine Case / Sabotage / Young and Innocent / Rebecca / The Lodger)
$99.99 – Sex and the City Complete Series
$143.99 – Friends Complete Series
$137.49 – United Artists 30-Film Deluxe Giftset
$433.99 – United Artists 90-Film Prestige Collection
Also, remember that Amazon's 50% off Movies and TV Sale is good until December 18th. Here are some of the highlights: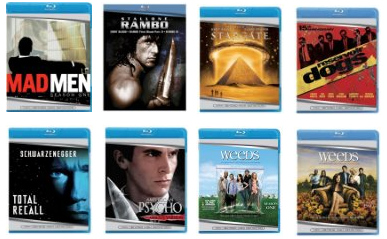 Rambo 1-3 Boxset – $24.99
Weeds Season 1 and 2 – $13.99 each
Mad Men Season One – $24.99
Stargate (Extended Cut) – $9.99
Reservoir Dogs (15th Anniversary) – $12.49
American Psycho – $12.49
Total Recall – $9.99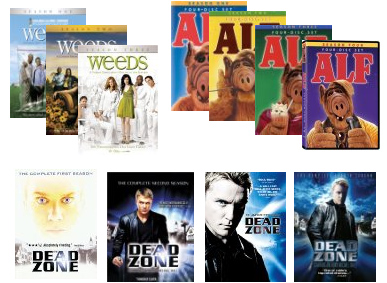 Weeds Season 1-2 $14.49 each
Weeds Season 3 – $18.99
Alf Season 1 – 4 – $12.49 each
The Dead Zone Season 1-4 – $9.49 each