WALL-E Awarded Best Picture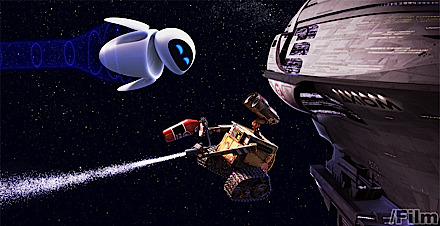 The Los Angeles Film Critics Association has named Pixar's WALL-E as the Best Picture of the Year. This is the first time in the 33-year history of the LAFCA that an animated film has won the top prize. Disney has been pushing the film for both Best Animated feature and Best Picture for the upcoming Academy Awards and Golden Globes. Critic Association awards like this are a stepping stone to the big stage, and are often looked at as a prognosticator of sorts. The Dark Knight was awarded the runners up prize.
Other notable winners include Danny Boyle being awarded the Directing Award for Slumdog Millionaire, and Christopher Nolan being named the runner up. Heath Ledger was named Best Supporting Actor, and Sean Penn (Milk) ousted Mickey Rourke (The Wrestler) for Best Actor. Slumdog's AR Rahman was awarded best Music/Score.
But as I said, the real story is WALL-E – the little robot that could...
But the question is — Will the Academy award an animated film with a Best Picture Nomination?