See Pixar's Cars In 3D On December 12th 2008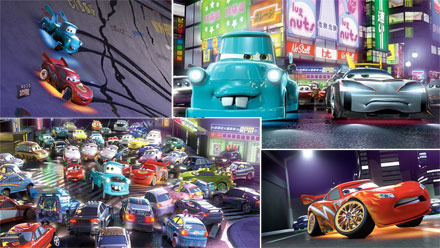 No, John Lasseter's Cars is not being re-released in 3D on December 12th, but you will be able to go to your local multiplex and see Pixar's first short film in Digital Disney 3D. The Cars Toons short Tokyo Mater will be attached to Disney's Bolt as the film enters its fourth week of release.  In the six minute short film, Mater the tow truck (Larry the Cable Guy) tells Lightning McQueen about his adventure drift-racing in downtown Tokyo.
If you remember, Pixar also did something like this with A Bugs Life, where they added extra blooper reels to the credits in an attempt to get moviegoers to return to the theater again. Bolt is a really great film, but it suffered from being released the same week as Twilight. With the addition of this new Pixar 3D short film, Disney is hoping to recover from the first week's slump. Also, if you haven't seen Bolt yet, you should know that the trailer for Pixar's Up is also attached, presented in 3D.
You can see some photos from the short film on LatinoReview, ComingSoon, and AICN.