This Week In DVD: The Dark Knight, Lost (Season 4), Horton Hears A Who, And More
We may receive a commission on purchases made from links.
This Week in DVD is a column that compiles all the latest info regarding new DVD releases, sales, and exclusive deals from stores including Target, Best Buy, Circuit City, and Fry's.
Please don't take the commentary on the movies and TV shows too seriously, as they're meant not to be reviews but rather previews that include the general thoughts and ramblings of a twice-committed DVD addict. The categories represent solely the author's intentions towards the DVDs at hand, and are in no way meant to be a reflection on what he thinks other people should rent or buy. So if he ends up putting a movie you like in the "Skip it" section without having seen it, please keep in mind that the time you could spend leaving a spiteful but ultimately futile comment could instead be used for more pleasant things in life. Like buying DVDs.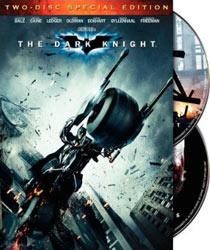 THE DARK KNIGHT
(Available as single-disc and 2-Disc Special Edition)
A spectacular, mesmerizing film experience, The Dark Knight managed to do something that other Hollywood blockbuster sequels of late haven't been able to: not disappoint. Recently, audiences have started becoming accustomed to high expectations being greeted instead with an activation of their gag reflex, whether it's with Spider-Man 3 or Indiana Jones 4. Leave it to Christopher Nolan to craft a movie that not only doesn't disappoint, but actually exceeds expectations in every way, making it not only one of the best movies of the year (if not the best), but also a major international success. It garnered unanimous praise amongst critics, is currently rated as the #4 best film of all-time on IMDB, and earned a box office gross that ranks #2 on the all-time domestic scale and #4 for all-time worldwide. I think at this point, it's only fair to assume the DVD release will continue the film's streak of breaking records, and if the Academy Awards were even the slightest bit relevant anymore, they'd be sure to nominate it for Best Picture. Can I get an amen?
Blu-ray? Yes.
Notable Extras: 6 action-packed IMAX Scenes ('Prologue', 'Hong Kong', 'Armored Car Chase', 'Lamborghini Crash', 'Prewitt Building', 'Final Montage'), a Gotham Uncovered documentary, featurettes ('Batman Tech: The Incredible Gadgets and Tools', 'Batman Unmasked: The Psychology of The Dark Knight'), 6 episodes of Gotham Cable's Premier News Program, and more.
*Does not include 2-Disc Edition, which costs $22.99 at each of the listed stores (excluding Amazon, where it costs $20.99).
Also available (exclusively on Blu-ray) is this Limited Edition set...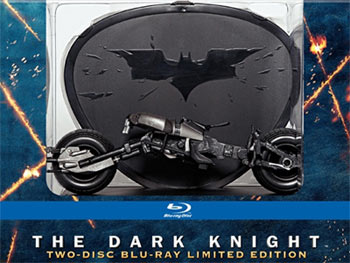 EXCLUSIVES: For an in-depth look at the various store exclusives available with The Dark Knight, see THIS POST.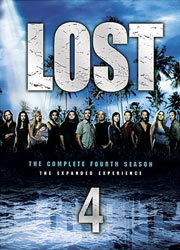 LOST (SEASON 4)
There are people who have given up on Lost, claiming the show asks too many questions without providing any answers and that the writers don't know what they're doing anymore. I'll be the first to admit, around the early episodes of Season 3, I was starting to become one of those people. But I was wrong, and so are they. This can be observed best by watching the show on DVD, where instead of experiencing the frustration of constantly waiting for a single scene or two from every episode that was briefly shown in the "Next Week on Lost" preview from the week before, you can simply enjoy episode after episode at your own pace. Do this, and it's clear that Lost is as good as it ever was, and you shouldn't let how antsy you are to figure out the mysteries behind the show's intricate weavings affect your enjoyment of what's going on with the characters right now. Because, believe it or not, the show does answer questions, and if you watch Season 4 again without acknowledging that, you clearly aren't paying close enough attention.
Blu-ray? Yes.
Notable Extras: Lost Bloopers, Audio Commentaries, Deleted Scenes, Lost on Location, Freighter Folk, Transforming Hawaii, Gun Tracking, and The Music of Lost.
EXCLUSIVE DEAL:
What? Free $20 Target GiftCard with purchase of both Lost (Season 4) on DVD and any season 1-3 DVDs.
Where? Target.
EXCLUSIVE DEAL:
What? Save $20 when you buy both Lost (Season 4) and any previous season of Lost on DVD or Blu-ray.
Where? Best Buy.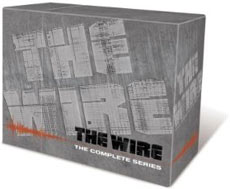 THE WIRE (THE COMPLETE SERIES)
In celebration of this week's beautiful release of the full series of The Wire, the /Filmcast gang decided to record a special episode discussing everything we could possibly fit in regarding what's easily the greatest television show ever made. Be sure to check that out when it gets released later this week, likely tomorrow. Since I've already stated time and time again just how much I love this show, allow this to be my final word: The Wire is not to the TV world what The Godfather, Citizen Kane and Casablanca are to the film world. It's just not at their level. It's beyond it. Those movies have nothing on The Wire, a show that may just be the finest piece of entertainment ever produced, and one I can't wait to experience again and again.
Blu-ray? No.
Notable Extras: The extras are the same as they were for the originally released DVD season sets.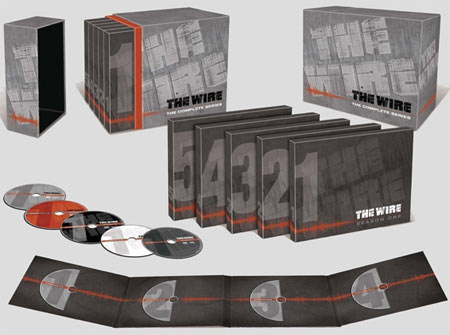 EXCLUSIVE DEAL:
What? Free Exclusive The Wire soundtrack CD.
Where? Best Buy.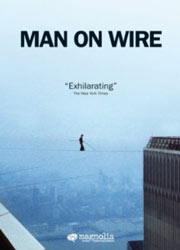 MAN ON WIRE
Completely unrelated to The Wire, this aptly-titled documentary chronicles Philippe Petit's 1974 high-wire walk between the Twin Towers of New York's World Trade Center. By all accounts, it's supposed to be an excellent film, as proven with its absolutely stunning 100% rating on Rotten Tomatoes (as well as an incredibly strong 8.3 out of 10 on IMDB). Man, this sure has been a year filled with fantastic documentaries.
Blu-ray? Not until December 30, 2008.
Notable Extras: An audio commentary and deleted scenes.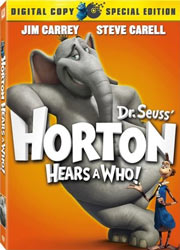 HORTON HEARS A WHO!
(Available as single-disc and 2-Disc Special Edition)
Fun, funny and harmless, Horton Hears a Who! is a respectable but ultimately forgettable affair. It's the type of family film geared more towards the kids, yet one that at the same time still allows parents to be entertained enough to not fall asleep or, worse, feel the immediate desire to smash their head into the coffee table. The only thing that almost ruins it is Jim Carrey, who feels consistently out of place with his blatant improvising and repeated attempts at wackiness (that end up coming across as more obnoxious than anything else). This is unsurprising since he did the exact same thing in another Dr. Seuss adaptation, The Grinch. As did Mike Myers in The Cat in the Hat. How's this for a new rule: stop casting "wacky" comedians to star in Dr. Seuss adaptations.
Blu-ray? Yes.
Notable Extras: The single-disc includes a director's commentary and a new Ice Age short called "Surviving Sid". [Editor's Note: Huh?] The 2-disc set adds to this deleted footage and animation screen tests, That's One Big Elephant: Animating Horton, Bringing the Characters to Life, Meet Katie, Elephant Fun: The Facts, Our Speck: Where Do We Fit In?, A Person Is a Person: A Universal Message, Bringing Seuss to Screen, The Elephant in the Room: Jim Carrey, and We Are Here! Game.
*Does not include 2-Disc Edition, which costs $22.99 at each of the listed stores (including Amazon).
EXCLUSIVE DEAL:
What? Deluxe ($22.99) has exclusive packaging, Dr. Seuss classic art puzzle and digital copy of the movie.
Where? Target.
EXCLUSIVE DEAL:
What? Free Exclusive Limited Edition Dr. Seuss Print when you buy any version of Horton Hears a Who.
Where? Best Buy.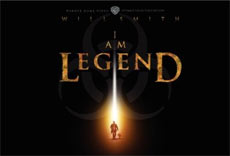 I AM LEGEND (ULTIMATE COLLECTOR'S EDITION)
I'm pretty sure we've already covered this ground thoroughly with the 300 (Limited Collector's Edition) a few weeks back. The difference here though, is that this edition comes in Blu-ray, so that may provide people some incentive for the upgrade. Otherwise it's just not worth it. Aside from new special features (listed below), here are the goodies that come with the set: an exclusive 44-page concept sketch book, a lenticular lucite commemorative piece featuring imagery from the film, and six collectible art cards.
Blu-ray? Yes.
Notable Extras: The new content consists of four animated comics, 12 never-before-seen deleted scenes, and more than two hours of all new extras. The rest is the same as the previous 2-disc release.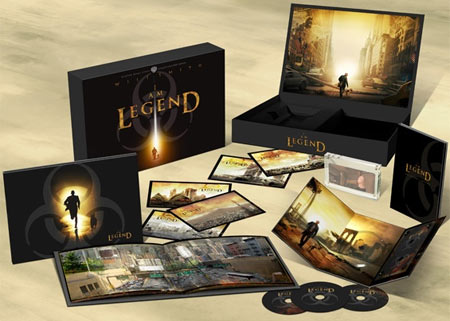 Other noteworthy DVDs available this week...
Deadwood (The Complete Series) – Sex and the City: The Movie (The Wedding Collection Ultimate Collectors Edition) – Happy Days (Season 4)

NOTE: Some deals may be in-store only.

$17.99 – Seinfeld (Season 8 or 9)
$19.99 – South Park (Season 11), 30 Rock (Season 2), Family Guy (Vol. 1 – 6)
$22.99 – Heroes (Season 2), Chuck (Season 1)

$4.99 – Batman Begins, X2, Batman: Gotham Knight, Transformers (with bonus collectible Optimus Prime mask), 3:10 to Yuma, Shooter, The Matrix, American Psycho (Killer Collector's Edition)
$14.99 – Scrubs (Season 7)
$19.99 – Dexter (Season 2)
$24.99 – My Name is Earl (Season 3)
$34.99 – The Shield (Season 6)
$9.99 – It's a Wonderful Life (2-Disc Special Edition), Elf, A Christmas Story, A Christmas Vacation, The Polar Express, and more...

$17.99 – Pushing Daisies (Season 1)
$19.99 – It's Always Sunny in Philadelphia (Season 1 – 3), Family Guy (Vol. 1 – 6), Californication (Season 1), Dexter (Season 1 – 2)
$21.99 – South Park (Season 7 – 10)
$24.99 – The Simpsons (Season 11), 24 (Season 1 – 6), Burn Notice (Season 1), Chappelle's Show (The Series Collection), Prison Break (Season 1 – 3)
$34.99 – The Wire (Season 1 – 4), John Adams
$36.99 – The Sopranos (Season 1 – 6, part 2), Deadwood (Season 1 – 3)
$7.99 – Flags of our Fathers, Hustle & Flow, Jackass Number Two, Coming to America, Spider-Man 2, Four Brothers, The Longest Yard, Mean Girls, Anchorman, The Warrior, The Last Dragon, House of Flying Daggers, Kung Fu Hustle (Axe-Kickin' Edition), Starship Troopers, Ghost Rider, and more...