Kung Fu Panda Director To Helm We3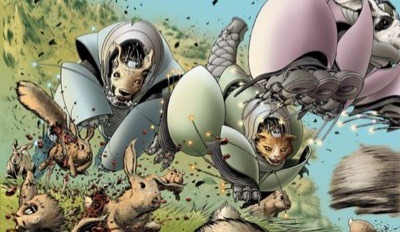 We may receive a commission on purchases made from links.
Kung Fu Panda co-director John Stevenson will direct a big screen adaptation of Grant Morrison's comic book miniseries We3. Producer Don Murphy confirmed to ShockTillYouDrop that the film will be R-rated, live-action with the likely change of computer generated killer rabbits.
Stevenson has also been rumored to be attached to Joel Silver's He-Man film, so it looks like he's trying to find a project in the live-action realm that might benefit from his computer animation background. I wouldn't expect We3 to go into production any time soon as the project was set up at New Line, but is currently looking for a new home.
FilmIck once called Grant Morrison's screenplay adaptation "even better than the source material", saying that it was "the single best unproduced script". That's a pretty big claim. Published in 2004 by Vertigo, described as "Western Manga", the official plot synopsis follows:
"WE3 tells the unforgettable story of three innocent pets — a dog, a cat and a rabbit who have been converted into deadly cyborgs by a sinister military weapons program. With nervous systems amplified to match their terrifying mechanical exoskeletons, the members of Animal Weapon 3 have the firepower of a battalion between them. But they are just the programs prototypes and, now that their testing is complete, theyre slated to be permanently decommissioned" until they seize their one chance to make a desperate run for freedom! Relentlessly pursued by their makers, the WE3 team must navigate a frightening and confusing world where their instincts and heightened abilities make them as much a threat as those hunting them but a world, nonetheless, in which there is something called Home. Action-packed and heart-wrenching, WE3 is a new high mark from two of comics greatest talents."
For those interested in checking out the paperback, its available on Amazon for $10.39